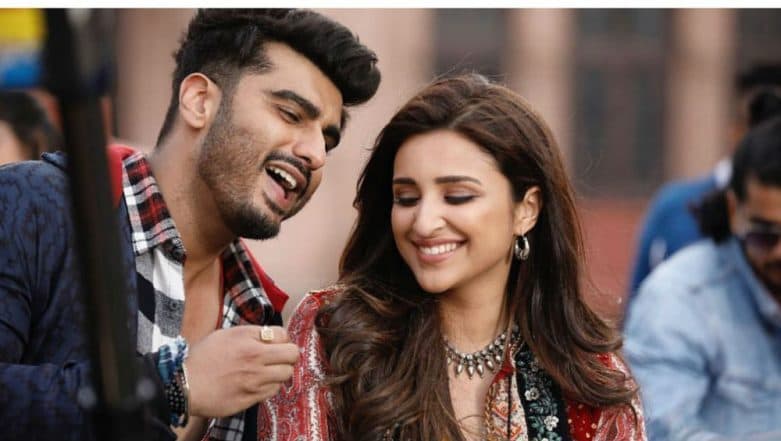 Namaste England by Vipul Shah was the film that audience was waiting for since long. The chemistry between Arjun Kapoor and Parineeti Chopra during their film Ishaqzaade made the fans root for this film. However, as the trailer dropped, they are mighty unimpressed by it. After a lot of confusion created for the hype of the film, the fans expected a refreshing love story. However, the trailer received a lukewarm response from the audience.
In the trailer, we see a love-struck couple getting married after their cheesy romance. However, Parineeti suddenly realizes that she cannot do whatever she wants to or does not get her basic rights and hence runs away to London. Arjun then chases her abroad, reunites with her in a few emotional scenes. Sounds familiar, right? Twitterati too thought same. In fact, one cannot miss its resemblance with Badrinath Ki Dulhania and Half Girlfriend. Badrinath Ki Dulhania, Half Girlfriend - 5 Movies Arjun Kapoor-Parineeti Chopra's Namaste England Trailer Reminded Us Of
Check out the tweets
#1
d i s a p p o i n t e d ! That's the word. I'm sorry so say but Arjun acted better in his debut movie than he did here, he looks pathetic. And they had better chemistry in Ishaqzaade. Here it looked forced. #NamasteEngland

— .🅗 🅐 🅟 🅟 🅨. (@xWildestDreamz) September 6, 2018
#2
#NamasteEngland It's feminism angle seems like Badrinath ki Dulhaniya . Average trailer

— Ranvijay Singh (@Ranvija98249248) September 6, 2018
#3
mixture of Half girlfriend + badrinath ki dulaniyaa = namastey england#NamasteEnglandtrailer #NamasteEngland

— Bonkers 😎 (@rahulkpopat) September 6, 2018
#4
People are gonna hate me for this but I am really disappointed with the #NamasteEngland trailer - I was expecting more from it 🙄🙄🙄 #NamasteEnglandTrailer

— Aria 💗 (@ariaa2000) September 6, 2018
#5
#NamasteEngland is no where near to #NamasteyLondon very disappointed! Had very much expectation from this one but then I see over the top tractor stunt by @arjunk26 and it ruined everything! Jasmeet and param can not be Arjun and jasmeet in this life!

— जय 🇮🇳 (@JuniorAkki) September 6, 2018
It is true that the film does a have a bit of the hangover of these films as the social media users say. However, this is just the trailer and the fans are still hoping that the film will turn out to be a surprise package. There are also high expectations from the song's album. Tell us your thoughts on the trailer in the comments section below.