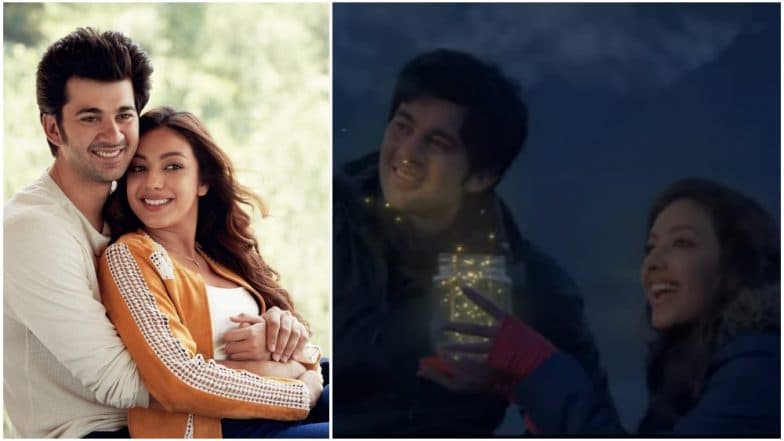 Pal Pal Dil Ke Paas, directed by Sunny Deol, opens in theatres today. The movie launches Sunny's son Karan Deol in Bollywood. Sahher Bambba is also making her Bollywood debut with the romantic movie. The movie looks to be made on a grand scale from the trailer. The cast and crew have shot for the film at some of the most exquisite locations in the country. For LatestLY, Rajat Tripathi is watching the movie to review it right now. The first half of the film is over and here is what Rajat has to say about Pal Pal Dil Ke Paas so far. Sunny Deol Shares a Family-Like Bond with 'Pal Pal Dil Ke Paas' Unit; Recalls Exploring Himachal, Living in a Tent and More.
"The movie starts with some of the extremely beautiful shots of the snowclad mountains. Popular blogger Seher Sethi (Sahher) hijacks one of her colleague's solo trekking assignment, worth Rs 5 lakh, to get away from her nagging extended family. Karan Sehgal (Karan) is her guide, the owner of the trekking company. He is suffering from childhood trauma, that is supposed to give his character a mysterious edge. The two characters get off on a bad note. "This is war," Seher declares as they begin trekking the beautiful mountains. What beautiful cinematography. If nothing, the first half definitely will make you want to take a trip to the hills. Sunny Deol and Karan Deol in Pal Pal Dil Ke Paas, Rakesh Roshan and Hrithik Roshan in Kaho Na Pyaar Hai – 5 Times When Actors Directed Their Son's Debut.
Sahher is a good actress. She lights up the screen. Karan is constantly smiling. I don't think there has been a single scene in the first half, where he is not smiling. Charming or creepy? I will wait for the full movie to make a decision. After a series of adventures and misadventures, love sparks between the leads, right when the word 'Interval' pops on the screen. So far, the movie has managed to keep my attention. Although no conflict has been introduced in the first half, so I think the second half would be rushed. Let's see.