When the trailer of Pathaan came out and it was established that the movie is set in the same YRF Spy Universe as Tiger Zinda Hai and War, fans jumped on the opportunity to see if there are Easter Eggs. While the trailer of Pathaan did have a few of them, including Ashutosh Rana's character Colonel Luthra who is borrowed from War, fans are also checking out Tiger movies and War to see if there are any Pathaan references there. For the uninitiated, War and Pathaan are directed by the same man, Siddharth Anand. Pathaan: Did Hrithik Roshan's Kabir Refer Shah Rukh Khan's Character Back in War? This Viral Fan Theory Offers Exciting Link to YRF's Spyverse (Watch Video).
After the teaser came out, a clip from War went viral where Hrithik Roshan's Kabir is seen talking about why he doesn't trust Tiger Shroff's character Khalid. He claims that Khalid's traitor father Rahmani had betrayed him during a mission, and Kabir nearly lost his life in the process if his 'buddy' didn't jump in between and got killed himself.
The said scene is going viral again, as you can see in the tweet below, with fans claiming that Kabir is referring to either Pathaan or Jim....
Who was #HrithikRoshan Kabir talking about in war #SRK #Pathaan or #JohnAbraham Jimpic.twitter.com/xfBuL6gg5v

— Harminder 🍿🎬🏏 (@Harmindarboxoff) January 27, 2023
However, if you have seen Pathaan, you might know that both are not the right fit for Hrithik's buddy here. And if I have to talk further on this, it means there will be SPOILERS of Pathaan ahead. So if you are okay with that, then let's dismiss Pathaan and Jim with explanations why...
Pathaan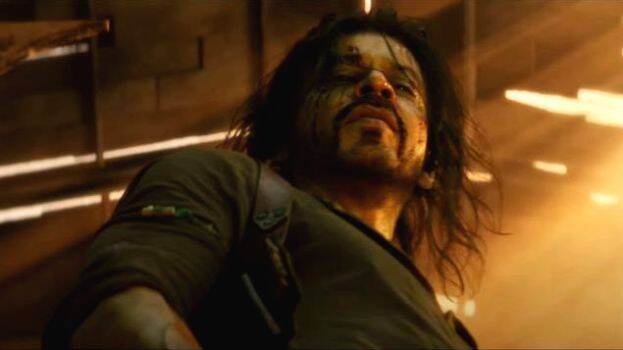 Shah Rukh Khan's Pathaan is a former RAW agent who was heavily injured in a mission in Myanmar and had gone through a lot of physical recuperation. While recovering, he plans and starts a separate unit in Indian military intelligence called JOCR (Joint Operation and Covert Research Unit) that consists of agents who are deemed not fit physically for RAW service, with Nandini (Dimple Kapadia) heading the unit. At no point of the film is it ever told that Pathaan has ever gone AWOL or presumably killed in service before this happened. The only time he had to go into hiding is after 2019 when Rubina betrays him, and that has nothing to do with Kabir. Pathaan Movie Review: Shah Rukh Khan, Deepika Padukone and John Abraham's Film is a 'Seetimaar' Entertainer With a Paisa-Vasool Salman Khan Cameo!
It is never told that Pathaan has ever worked under Colonel Luthra before, unlike Kabir. Pathaan, however, is very familiar with Salman Khan's Tiger as confirmed in their one awesome scene together.
Jim
Now Luthra confirms that Jim and Kabir had worked in the same unit, so we can presume they know each other. But Kabir's tale about his 'buddy' doesn't match with Jim's tragic story before he went AWOL. In Pathaan, Luthra reveals Jim was kidnapped by Somalian pirates as revenge for a mission he carried out on them, and his pregnant wife was killed in the process. Luthra claims that they never found Jim's body though, and he was presumed dead and honoured posthumously with Vir Chakra. If Jim is the same 'buddy' of Kabir, then why do Kabir and Luthra's stories not match with each other? Jim later even corroborates with Luthra's version when he tries to instigate Pathaan. So we can assume it is not Jim about whom Kabir was talking about. Pathaan: From Salman Khan's Tiger 3 to Hrithik Roshan's War, 7 Important Easter Eggs That Link Shah Rukh Khan's Spy Thriller to YRF Spy Universe.
So who is this 'buddy' of Kabir? We sure hope that whenever War 2 is made, we have a flashback scene that explores this scene, while also sneaking in a John Abraham cameo, just so that we can have Bollywood's two hunkiest men on screen together. What say, Siddharth Anand?
(The above story first appeared on LatestLY on Jan 27, 2023 07:05 PM IST. For more news and updates on politics, world, sports, entertainment and lifestyle, log on to our website latestly.com).