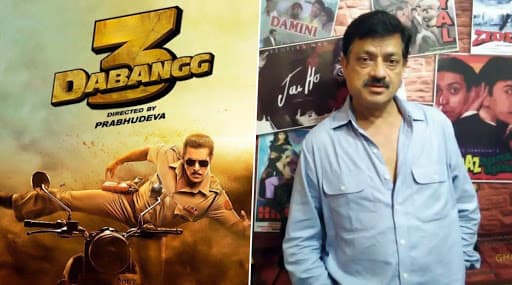 Dabangg 3 is all set to reach the theatres on December 20, 2019. The film has been made so fast that Salman Khan has even moved on to his next Eid release Radhe. Of course, it means Christmas will be big and ballistic, maybe even better than Dabangg 2, which was also a Christmas release. But in the midst of all this, here comes an incident that sounds a bit strange. Mid-Day reports that Dilip Shukla, who has to his credit films like Ghayal and even Dabangg, has been dropped from the screenplay credits. He now just has the dialogue writer credit to him which he shares with Aloke Upadhyaya. Dabangg 3 Song Hud Hud: Forget Salman Khan's Towel Step, His Butt Flexing Will Be The New Rage (Watch Video)
Things have changed since the first teaser of Dabangg 3 was released. Now, the actor too finds his name on the screenplay credits along with Prabhudeva and Aloke Upadhyaya. So what happened? Arbaaz Khan told Mid-Day that Shukla's name on the first teaser was a "digital misprint".
Before we tell you more, check out the first teaser. Do note the credits right at the end...
Watch the First Teaser
Watch the Trailer:
Arbaaz Khan clarified to the daily: "Nobody is taking anybody's credit away. When Dabangg 3 was being made, the idea to make a prequel came from Salman. He wrote the synopsis on the basis of his vision, and then, got writers on board. He also monitored what was being written and took a lot of creative interest. Salman has done a lot more in the film, but has not taken credit for it." When asked why was Shukla's name was mentioned in the teaser instead of Salman's, Arbaaz called it "digital misprint".
Shukla on his part admitted that the screenplay is pretty much Salman's but he asserts: "I am way past feeling disappointed or upset. I have written the dialogues, Dhai kilo ka haath and Tareekh pe tareekh, yet I didn't get any award. If I wasn't honoured after doing such quality work, why would I get upset about my name getting dropped from credits?"