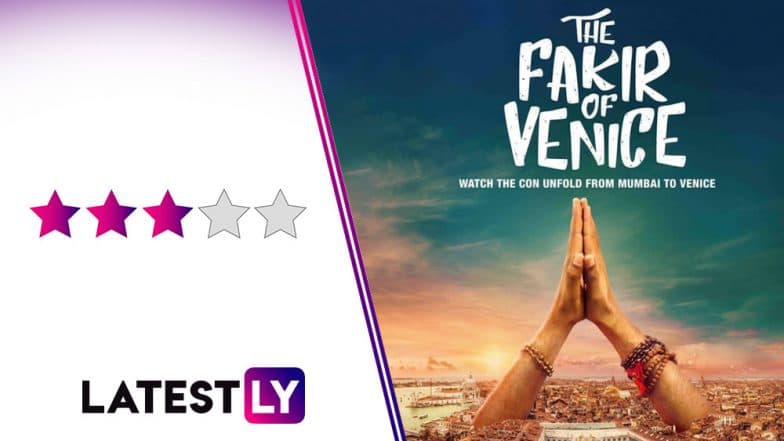 During a scene in The Fakir of Venice, an Italian girl tells Adil (Farhan Akhtar) that she has never visited India and wants to go there. A dismissive Adil tells her that he wants to be out of the country as soon as possible. This scene forms the crux of Anand Surapur's The Fakir of Venice - a spiritual comedy on the West's fascination with our mysticism and how in turn, we seek opportunities to take advantage of it. This was supposed to be the acting debut of Farhan Akhtar, an already established director. Then Rock On happened, Farhan kept getting busier as an actor and producer while this movie got stuck somewhere, seeking a release. So have the years of waiting around affected The Fakir of Venice in any way? Let's find out! The Fakir of Venice Trailer: Farhan Akhtar and Annu Kapoor Engage in a Spiritual Con Game in This Comedy.
Adil is a hustler who arranges illegal things, from a monkey to art forms, for film crews and gets paid for it. In a very unusual assignment, he is asked by the exhibitionist of an Italian art gallery to arrange for a Fakir with the promise of a hefty fee. There is a condition, though. The Fakir should be able to bury himself under sand and breathe through it. Adil, who is an incorrigible opportunist, sees this as a chance to take his con-game beyond the borders. After failing to find a worthy (and profitable) one in Benares, a town where there are more babas than pebbles, Adil finds a solution in his own city, Mumbai.
The solution happens to be Sattar (Annu Kapoor), an alcoholic daily wager, who used to earn money by lying buried under the sands of Juhi beach. Together, they leave for Venice where awaits them a couple of lessons in humanity and spirituality.
Stuck in the cans for a decade, The Fakir of Venice comes with the associated problems delayed films often have. There are plenty of continuity issues, editing lapses and sound issues. Even the camera-work lapses from placement shots to headache-inducing shakiness. The use of Farhan Akhtar's voiceover feels more like an idea to fill the vacuous gaps rather than be a narrative enhancer.
However, if you look beyond these deficiencies, there is a beautiful human story to behold in The Fakir of Venice. That of kindness and compassion, of the existential discussions about life and death without going too philosophical. The movie is empowered by the interplay between two contrasting personalities in Adil and Sattar.
Adil revels in his selfishness, who thinks his smooth ways are enough to emancipate him beyond his wily schemes. For him, Sattar is nothing but a cow to be milked till dry. A means to get his own visa to the States. So what if he has to share a bed with Sattar for a week and is basically revolted by his drinking and general behaviour. Though, as his ex (Kamal Siddhu) points out to him, Adil is the worse between the two.
Sattar, on the hand, is a reluctant participant in the con-game, the one whose reasons to even be in Venice has nothing to do with his own benefits. What the West sees as mysticism in him breathing under the sand is a means of livelihood for him. We later find out that his naivete is being taken advantage of all around him, and not just Adil. Even his body is not in his stake. Towards the later part of the film, Adil questions Sattar why he lets everyone to push him around, including himself. This realisation is what might have triggered the change in Adil himself, shown best through a bulb that flickers twice but burns bright. The scene where Sattar talks to a disinterested-looking Adil about his past is highly fascinating.
The city of Venice helps in finding these two the purposes of their lives, perhaps not the way they intend it to be. Adil, who sees the city as an opportunity, finds that everyone has a con-game of their own and learns a lesson or two in empathy. Venice finds it easy to enthral Sattar (who may have never even seen the city in The Great Gambler's "Do Lafzon Ki" song). His child-like wonderment over the murals will bring a smile on your face. While he may have dark intentions in coming to Venice, it is here where he finds an unselfish companionship in Gia (Valentina Carnelutti), who could see the owner of the hands that are above the ground for what he is.
And in the end, when Sattar's real intentions of coming to Venice are revealed, it will make you hark back to a dialogue that Adil tells him once - that there really might be a Fakir in him. The writing in the sequences involving these two is very strong.
Anand Surapur keeps the first half light as The Fakir of Venice gets us to know its two main players. Adil's tryst with Benares is funny and so is the banter between him and Sattar. Shibani Dandekar Plans A Cozy and Romantic Birthday Surprise for Boyfriend Farhan Akhtar - See Pics Inside.
As the movie nears the conclusion, things become heavier to comprehend. In these sequences, The Fakir of Venice toys with the themes of loneliness, disillusionment, fears and death. The entertaining bits and the humour are kept at bay here, as we get to know more about Sattar's pain. Characters flit in and out, and it may not be easy for the general audience to figure out what is going on. But like a character points out, everyone has a story to tell even if we never get to hear them always. Like those two transgender men who introduces Sattar to ecstasy.
Watch The Trailer of The Fakir of Venice Here - 
AR Rahman's background score is immensely beneficial to the film. His use of symphony works in building up mysticism surrounding the movie's protagonists and the city where they seek their con in.
The Performances
When Annu Kapoor reigns in his hamminess, he is an excellent actor, perhaps one of the best in the business. Which is why his performance in The Fakir of Venice feels extremely enchanting. Annu Kapoor puts out a very convincing portrayal of a man, who is pushed around too often. He is, especially, wonderful in the scenes where he talks about his nightmares or when one harrowing sequence where he goes nuts in delirium.
Since this was his first acting assignment, I was surprised to find there was hardly any rawness in Farhan Akhtar's performance (which was, however, evident in Rock On). The multi-faceted actor delivers a fine act as the scheming middle-man who thinks he is charming, but often strikes out. The actors in the supporting cast do well in their roles, especially Jhilmil Hazrika and Valentina Carnelutti.
Yay!
- Both the Lead Actors
- AR Rahman's BG Score
- The Themes and Execution
Nay!
- The Second Half is Not Everyone's Cup of Tea
- Suffers at times from Post-production woes
Final Thoughts
The Fakir of Venice is a belated oddity with enough problems of its own. And yet, it is a captivating piece of cinema that plays with mysticism and existential themes, with engrossing performances from Akhtar and Kapoor. Do watch it, if you want to try something different from the regular brand of Bollywood movies.