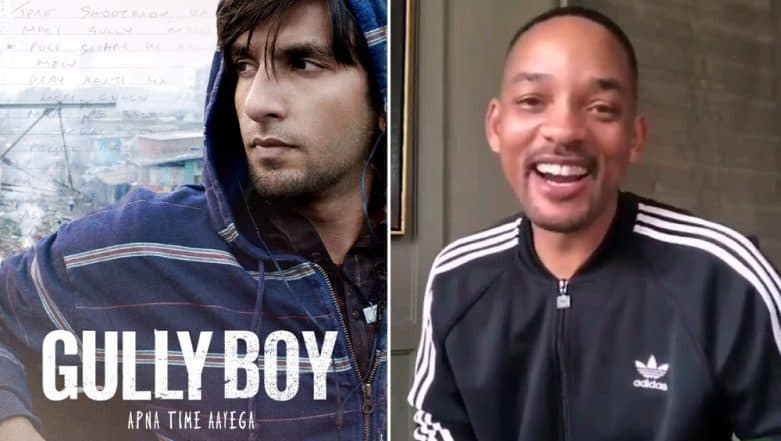 Ranveer Singh's time has arrived, officially. While his career graph has only climbed higher and higher, some of the notches in his career have been performance oriented films like Lootera, Ram-Leela, Bajirao Mastani and Padmaavat among others. While these films put Ranveer Singh at the top of his game, his last release Gully Boy has only solidified Ranveer's position at the top spot and also made him one of the industry's most bankable stars. Ranveer Singh's BIGGEST Box Office Openers: Gully Boy Beats Padmaavat to Grab the Second Spot, Simmba Still on Top
And while Ranveer goes around crooning 'Apna Time Aayega' everywhere, his 'Time' has come, in the form of none other than Hollywood legend Will Smith appreciating Ranveer's performance in Gully Boy. Aladdin Teaser Twitter Reactions: Fans Compare Will Smith's 'Blue' Genie With Stuff Nightmares Are Made Of!
Watch Will Smith's video below: 
In the video, Will Smith can be seen saying, "Yo, Ranveer. Congrats Man. I'm loving what you're doing with Gully Boy. For me, old school hip hop it is and I've seen hip hop all over the world and I'm loving it (Gully Boy) Man. Congrats, Go Get Him!" Will also shared the trailer of the movie on his Instagram story.
Gully Boy released on February 14 and has been appreciated by all quarters of the industry. In fact, the movie's earnings broke records of some of Ranveer's previous releases like Padmaavat and Simmba as well. And while Ranveer sure is overwhelmed and thankful for all the appreciation that is coming his way, Will Smith's video will definitely be the icing on the cake for him now, won't it? And now, we eagerly await Ranveer's reply on the same.