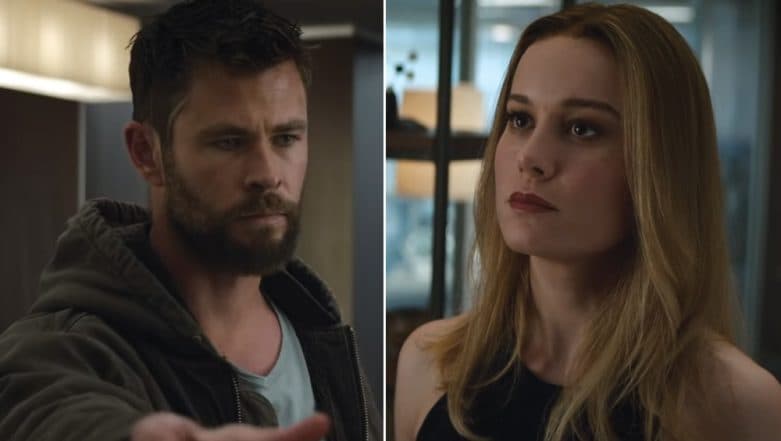 Avengers: Endgame trailer came out of nowhere and boggled our minds with too many emotions. From making us nostalgic with the scenes from good ol' days to showing lifting our spirits with their new determination and 'whatever it takes' attitude, the new trailer is definitely intriguing and loaded with so many 'wow' elements. However, it's the budding romance between Thor and Captain Marvel that takes home the trophy for bringing a smile on our face amid such tensed scenario. No, we aren't kidding! Thor already seems smitten by Ms Carol Danvers and their unspoken chemistry is already conveying all the right emotions. Avengers: Endgame New Trailer- Can We Please, Please, See Hulk Already?
Towards the end of this new trailer, we see Chris Hemsworth's Thor meeting Larson's Captain Marvel with the rest of the Avengers. She was already introduced to the rest of the team in Captain Marvel movie's mid-credit scene where she comes rushing to help with the crisis. However, this scene in the new trailer seems to introduce Thor and Marvel. The Lord of Thunder looks visibly impressed with this superhero and her flirty eyes do rest of the talking. No wonder he says 'I like this one ( Captain Marvel)', in the next couple of seconds. Do the makers plan to show romance brewing between their characters? We certainly hope so. After all, a face as handsome as that deserves the necessary appreciation, right? Avengers: Endgame New Trailer: Is that Clint Barton's Prodigy, Kate Bishop in That One Scene?
Watch the new trailer of Avengers: Endgame here
Thor earlier romanced Jane Foster (Natalie Portman) in two of his superhero movies. However, he did mention about her dumping him while he was off wandering the universe before Avengers: Age of Ultron. Later it was speculated that some of the romantic scenes between him and Valkyrie (Thor: Ragnarok) were chopped off. Well, that sure leaves him single and ready to mingle. And who better than Captain Marvel to suit his impressive persona!