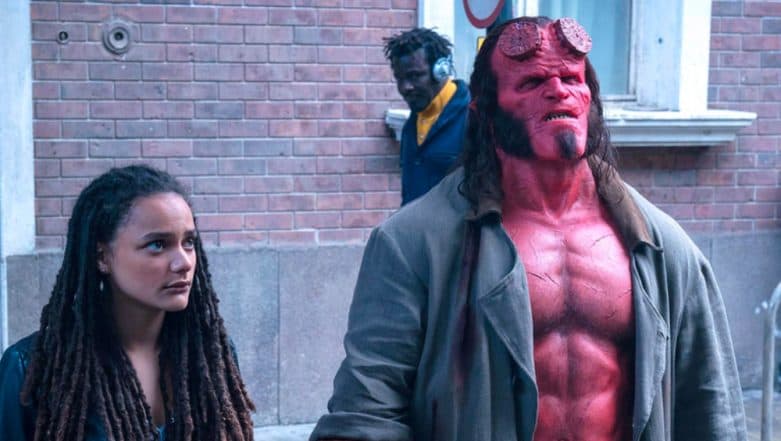 It has been ten years since Guillermo del Toro's second Hellboy film released and two years since the filmmaker announced that he won't be turning it into a trilogy. In May 2017, a reboot of the film series was announced with a new director and new actors on board. Today, we got the first trailer of the said reboot of Hellboy from Lionsgate, but only after a leaked version of it made its way to the internet. And we have mixed feelings about it and this movie was on our most looked-forward-to in 2019 list. Stranger Things star David Harbour stars as the titular hellish creature, working as a ghostbuster for Bureau for Paranormal Research and Defense (BPRD). Neil Marshall, known for the master horror film The Descent, has directed the new version with a new vision, but not necessarily what we were promised earlier.
Hellboy is said to be closer to source material Mike Mignola's comic book series of the same name. In fact, the makers have hinted several times over the past few months that this movie will be a darker, more horror-induced version than the Guillermo del Toro films. While new Hellboy is indeed different than the previous iterations, it is not exactly what was promoted, it seems. 2.0: Hellboy, Deadpool, X-Men - 7 Hollywood Superhero Movies of 21st Century Whose Budgets Rajinikanth-Akshay Kumar's $75 Million Film Eclipsed.
Hellboy trailer is full of energy and comical relief. We were expecting some scares which were zero. We do wonder what led the makers to have this footage rely so heavily on humour than horror. Maybe the second trailer will set the tone right? We are hopeful. Also, give Milla Jovovich more screentime, please in the next attempt?
But all that being said, Hellboy trailer was quite enjoyable. It reminds us even more why we missed the red demon on the screen. Apart from lack of horror, I have no apprehensions regarding the movie. Maybe the production house will promote this tone of the film in the coming months and I will be more on board. Anyway, I am looking forward.
Watch the New Trailer of the New Hellboy Below:
Hellboy releases in theatres on April 12, 2019. The movie will be R-rated so that is something to look forward to. Oh, wait, just remembered CBFC. Yea, nevermind. Waiting for the condensed version in Indian theatres, in this case.