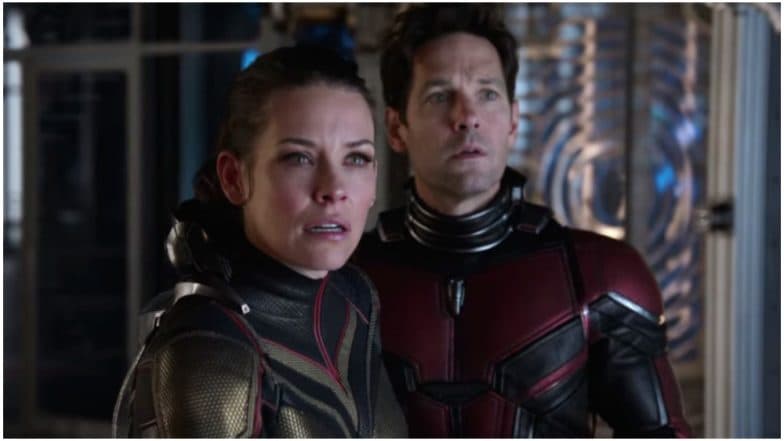 We bet it was a delight watching Paul Rudd's Scott Lang aka Ant-Man bring out his A-game in Avengers: Endgame. The Ant-Man franchise began in 2015 and was garnered with positive responses by the audiences and after last year's sequel Ant-Man and The Wasp, fans were hoping to know if there was going to be Ant-Man 3. Director Peyton Reed had previously mentioned that he is hopeful another movie will happen, but recently actor Paul Rudd had a rather different response to it.
During a recent interview with Yahoo, Rudd was asked if Ant-Man 3 was in the works and he said, "I don't know. You need to make a call to the top brass and start a campaign to make it happen." While fans expected Ant-Man 3 to be a part of Marvel's Phase 4, there has been no update from the studio about it as of now. Avengers Endgame: Watch How Jeremy Renner and Paul Rudd Find a Fun Way to Avoid Giving Spoilers.
At the end of Avengers: Endgame, Scott Lang reunited with Hope van Dyne (Evangeline Lilly) and an older Cassie Lang (Emma Fuhrmann). Although, it was earlier speculated that the third film in the Ant-Man franchise would delve more into the concept of the quantum realm and focus more on Janet van Dyne's character. The character was essayed by Michelle Pfeiffer.
After Paul Rudd jokingly asked fans t start a campaign, fans of the franchise took to Twitter to share posts on why they need Ant-Man 3. Here are some of the tweets in support of a third film for the franchise. Avengers: Endgame - Memes on Ant-Man Entering Thanos' Butt to Kill Him Take Over the Internet.
#Tweet1:
reasons #antman3 needs to happen:

• scott and hope's relationship has Not been resolved!!

• cassie's FIVE years older we need to see how scott deals with that

• closure on quantum realm and its effects after time spent there now both janet and scott have spent time there

— el 🕊 #antman3 (@hopedynevan) June 11, 2019
#Tweet2:
alright ant-stans, we need to get #antman3 trending pic.twitter.com/3L21jkqI3b

— m ✇ #antman3 (@odyneson) June 11, 2019
#Tweet3:
More Luis, more microscope, more cassie, more pym fam, more humor, more GIANT MAN too!! #antman3 #AntMan pic.twitter.com/aZ6oUjiNAB

— Quinn Lee #antman3 (@QuinnLeeP) June 11, 2019
#Tweet4:
Given how Scott Lang's story played out in Endgame, it's important to see how he and everyone on his side of the MCU deal with the aftermath and maybe answer some questions that are still rattling around in our heads. I even have a pitch for what #AntMan3 could be about. https://t.co/YFNnKvU6ZB

— Jesse Vinterlik (@JesseVinterlik) June 12, 2019
What do you think about Ant-Man 3? Tell us if you also think that the franchise needs a third film in the comments below.