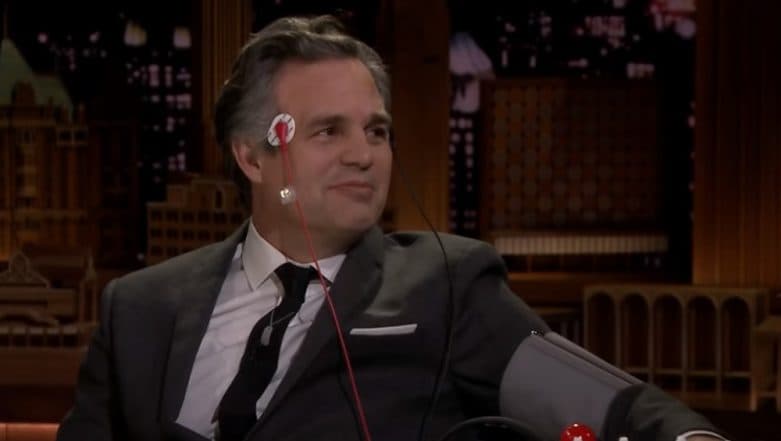 Just when Mark Ruffalo found out that he hasn't been fired from the Avengers films for goofing up several times, Jimmy Fallon seems to have put him in a spot. The actor was recently called to hang out with Fallon on his show. Of course, the underlying purpose of the episode was to reveal the new Avengers: Endgame trailer. However, to put Ruffalo in more misery, Fallon made him take a lie detector test! That's right. To get more spoilers out of Mark Ruffalo, Fallon put him under the lie scanner.
With the kind of reputation that Ruffalo has for revealing spoilers for Marvel films, Fallon made things even worse for a guy who is already bad at lying! After attaching the lie detector, several things were asked regarding Avengers: Endgame. Some of the questions included Jimmy Fallon asking whether Hulk was a Skrull, if any new hidden clues were present in the latest Avengers: Endgame trailer that fans didn't recognise, whether Hulk and Black Widow got together in the final Avengers film? Wow, he was put under a scanner for such pivotal questions and to all of them, Ruffalo maintained a "You know I can't tell you," response!
You can check out the episode snippet below -
Ruffalo is all over the place for giving an interview where he mentioned that Noah Centineo is hotter. Apart from that, he also is sending Twitterati in a tizzy for stealing Thor's hammer from Chris Hemsworth's trailer for charity! Mark Ruffalo plays Hulk in Marvel Cinematic Universe. Although we like his Hulk avatar, it looks like he might not don the green alter ego in the Endgame film as even the poster shows Bruce Banner instead of Hulk! The film is set to release on April 26, 2019.