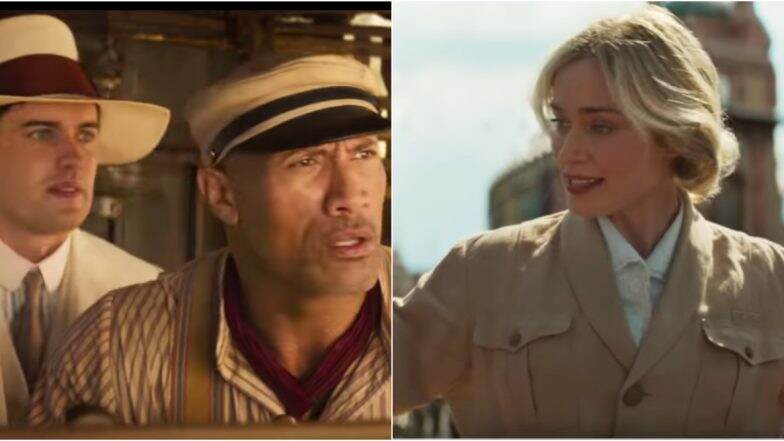 The trailer of Disney's Jungle Cruise has dropped today and it looks quite interesting. Starring Dwayne Johnson and Emily Blunt in lead roles, the film is based on a theme-park attraction. The trailer showcases some fun jungle adventures, scary animals and even quite a bit of action. Blunt's character Lily and her brother McGregor played by British stand-up comedian Jack Whitehall are shown to be on a mission to find a tree that has magical healing powers.
Dwayne Johnson's character is introduced as the riverboat captain in the film. The film has been inspired by the famous Disneyland theme park ride. Blunt and Whitehall's bits are fun and she as always brings her best to this adventure drama. One of the exciting waterfall scenes where Blunt's character declares, "I cannot swim" is amazing.
Check Out the New Trailer Here:
The jungle adventures look interesting and a few of them may also remind you of Jumanji. Disney had previously shown off some footage from the movie during its D23 Expo in late August. The film's official synopsis reads, "JUNGLE CRUISE is an adventure-filled, Amazon-jungle expedition starring Dwayne Johnson as the charismatic riverboat captain and Emily Blunt as a determined explorer on a research mission. Also starring in the film are Edgar Ramirez, Jack Whitehall, with Jesse Plemons, and Paul Giamatti."
The Jungle Cruise has been a popular ride at the theme park. It is even older than the Pirates Of the Carribean ride and was the only attraction to exist in Adventureland on Disneyland's opening day in 1955. Clearly, fans are going to be thrilled to see it play and important part in the film.