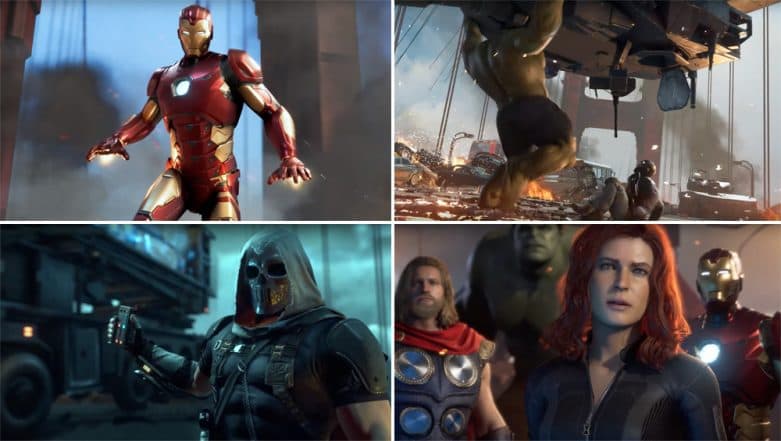 The Avengers are back! Well, not for the silver screen but the Avengers game for Xbox One and other platforms was revealed by Square Enix. The game is all set to be launched on May 15, 2020 in the meantime, a trailer featuring our favourite superheroes is here. The game is based on the Avengers film franchise from the Marvel Cinematic Universe. The best part about this game though is the fact that Tony Stark and Black Widow both still live and we can't help but be ecstatic about it. Avengers Endgame Fan Has Watched the Marvel Movie THIS Mind-Boggling Number of Times.
At the ongoing E3 2019 gaming expo, Marvel unveiled the long-awaited official game titled Avengers: A-Day. The game trailer reveals a new look of the core members of the team. The official synopsis of the game is, "Marvel's Avengers begins at A-Day, where Captain America, Iron Man, the Hulk, Black Widow, and Thor are unveiling a hi-tech Avengers Headquarters in San Francisco — including the reveal of their own helicarrier powered by an experimental energy source." The trailer shows Iron Man, Thor, Captain America, Black Widow and Hulk.
Take a look at the trailer here:
Not our favourite Hollywood stars but Laura Bailey, Nolan North, Troy Baker, and other acclaimed voice actors are part of the game. Developed by Square Enix in collaboration with Crystal Dynamics, Eidos-Montréal, Nixxes Software, the game offers single-player and co-operative gameplay.
Marvel's Avengers will release on PlayStation 4, Xbox One, Google Stadia and PC platforms on May 15, 2020. How excited are you to play the official Avengers game featuring your favourite superheroes?