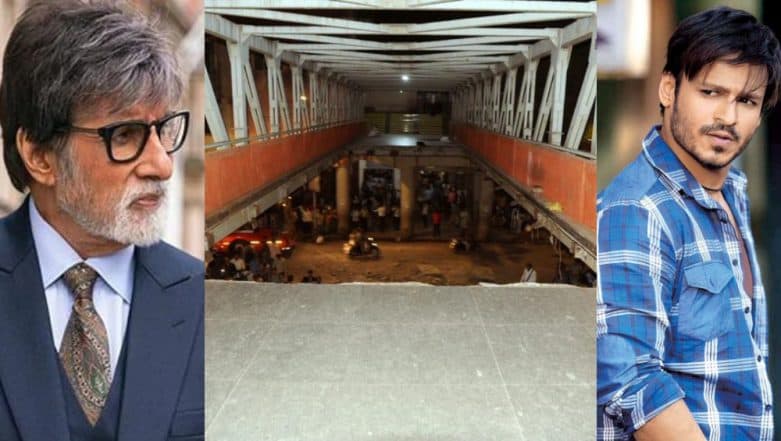 A horrible tragedy struck the city of Mumbai once again. The floor of a foot overbridge located right next to the Chhatrapati Shivaji Maharaj Terminus collapsed injuring civilians crossing it and under it. Casualties have been reported as well. The numbers are yet to be confirmed by the authorities. And now, the blame game would begin, with higher intensity with the election day just around the corner. In this time of grief, Twitter is reacting rightly. Everyone wants the responsible peoples held accountable. Even some Bollywood celebs have come out to extend their sympathetic words to the community.
On the surface, these words might not seem much, but let us not forget that words have overturned worlds in the past. We need more and more people, as many as possible, to come out and speak out against the incident. Amitabh Bachchan, Riteish Deshmukh, Vivek Oberoi get the ball rolling. Mumbai CSMT Foot Over Bridge Collapse: PM Narendra Modi Says 'Deeply Anguished' After 5 Killed, 36 Injured in Fatal Accident.
T 3118 - In grief and in silent prayer .. !! Mumbai city

— Amitabh Bachchan (@SrBachchan) March 14, 2019
What a horrible tragedy.. so sad to know that many have lost lives. My deepest condolences to the families who lost their loved ones & prayers for the injured. This #MumbaiBridgeCollapse should have been avoided. This negligence is unpardonable.

— Riteish Deshmukh (@Riteishd) March 14, 2019
Perturbed to hear about the #MumbaiBridgeCollapse. So disturbing to see images and videos of the scene. Prayers for the victims and their families🙏

— Vivek Anand Oberoi (@vivekoberoi) March 14, 2019
Distressed at the news of the fall of part of the overbridge at CST. Praying for the injured.

Commuter safety needs attention and hoping that authorities act to prevent such incidents.

— Sachin Tendulkar (@sachin_rt) March 14, 2019
Tragedy- this time in the heart of Mumbai! The foot overbridge at the CST suddenly collapsed killing 5 people & injuring at least 36. I pray for those who have lost their lives & for those now in hospital for treatment🙏

— Hema Malini (@dreamgirlhema) March 14, 2019
Interestingly, most of the people who have been mentioned above have a political connection in one way or the other. Amitabh's wife Jaya is a member of the parliament from the Samajwadi Party. Vivek will be seen essaying the role of PM Narendra Modi in his biopic. Riteish is the son of late Maharashtra CM Vilasrao Deshmukh.