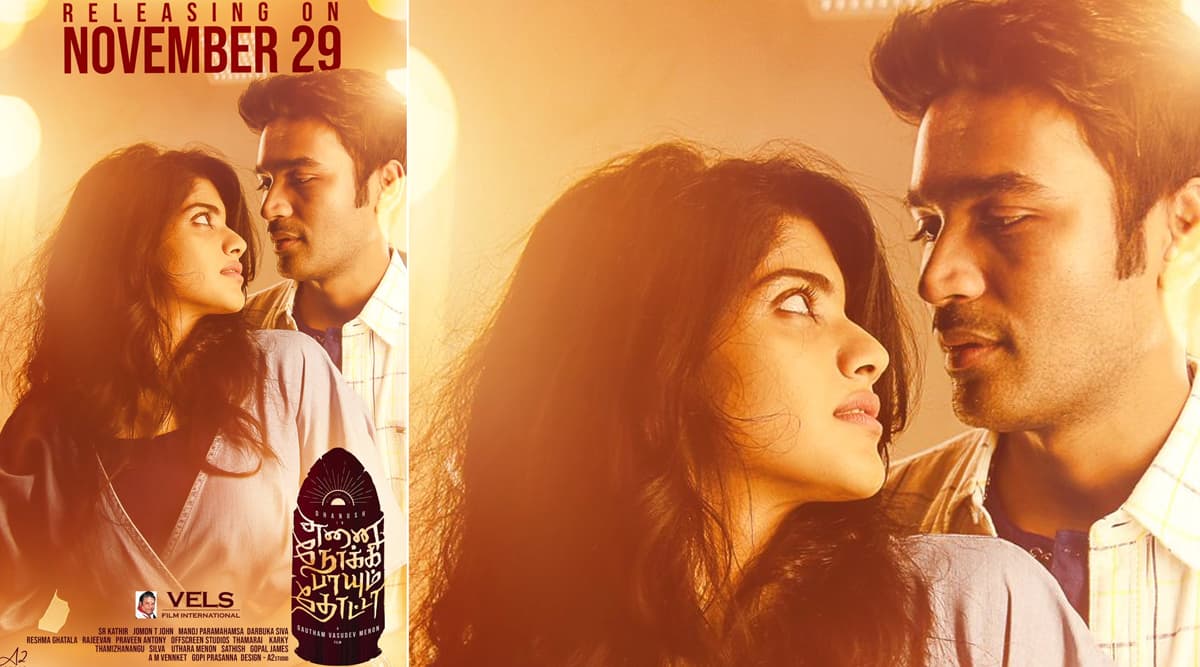 Enai Noki Paayum Thota starring Dhanush and Megha Akash in the lead has been delayed numerous times. The film was supposed to hit the screens in early September, however it was stalled citing financial reasons. It has been almost more than two since this film has been facing issues, causing delay in its release. It was earlier this year when Enai Noki Paayum Thota aka ENPT received U/A certificate. As per the latest update, the film directed by Gowtham Menon will be releasing on November 29 and fans are pretty excited about it. #ENPT Update: Dhanush Starrer Enai Noki Paayum Thota to Release on July 26.
It was recently when Gautham Menon had tweeted, "Thanking @isharikganesh sir for helping me 'realise my vision' & for coming on board to release #ENPT. He saw ENPT & liked it & we've agreed to take a journey forward together." Ishari K Ganesh of Vels Films International has bought the rights of this upcoming romantic thriller. Despite several delays, fans are excited to watch Enai Noki Paayum Thota. They are using the hashtag #ENPTFromNov29 and trending it on top. Dhanush's Enai Noki Paayum Thota Suffers Another Delay, The Gautham Menon Film Won't Release on September 6 - Here's Why.
Fans Excited To Watch ENPT
All set on ready.. #ENPT Worldwide Grand Release From November 29th! #ENPTFromNov29th 😎💥

"ENPT CARNIVAL IN 10 DAYS" https://t.co/sws8v7XJ5Z

— Dhanush Trendsᴱᴺᴾᵀ (@DhanushTrends) November 19, 2019
The Excitement To Book The Tickets
#ENPT from #nov29 confirmed ✌️

Theatre Booking Very Soon #ENPTFromNov29th

— தனிக்காட்டு ராஜா™😎🔥 (@Dhanush_Sugu3) November 19, 2019
Countdown Begins
9Days To Go Another BloclkBuster Of This Year #ENPTFromNov29th 🧨🎆@dhanushkraja pic.twitter.com/i0Ptccpi7m

— MrD Fan (@MrDFan1) November 20, 2019
#ENPTFromNov29
#ENPT is all set to release on November 29th 😍 10 days more to witness the amazing pair of @dhanushkraja & @akash_megha 💞 with fantastic songs of @DarbukaSiva 💯#ENPTFromNov29th pic.twitter.com/0Prbr93Tk6

— A2 Studio (@a2studoffl) November 19, 2019
AR Rahman was initially approached to compose for Enai Noki Paayum Thota. However, the legendary music composer declined it citing his hectic schedule. It was later confirmed that Darbuka Siva, who was referred as Mr X by Gautham Menon, has composed the music for ENPT. Stay tuned as we get to you more updates from the world of entertainment.