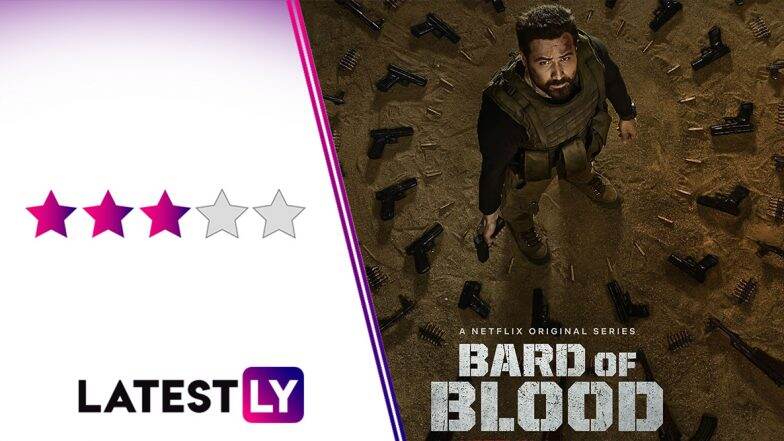 Bard of Blood Review: Kabir Anand (Emraan Hashmi), codenamed Adonis, was once considered the best operative in Indian Secret Service. That is, before a mission in Balochistan goes horribly wrong and his friend and colleague Vikramjeet (Sohum Shah) gets killed. Kabir is discharged from his services and is currently teaching about Shakespeare in a college. He is also taking care of his deceased friend's wife and son, while cutting all ties with his old team, including his mentor Sadiq (Rajit Kapoor). Kabir is also suffering from survivor's guilt over the Balochistan incident. Sobhita Dhulipala Was Jealous of Her Bard of Blood Male Co-stars for This Reason.
Meanwhile, four Indian agents are caught by the Taliban in Balochistan trying to pass vital information about their head, Mullah Khalid (Danish Husain). Sadiq, along with his code-breaker Isha (Sobhita Dhulipala), tries to recruit Kabir back in the game, but he refuses to comply. However, certain circumstances coax him to take charge of saving the hostages from the Taliban, with Isha tagging along. On the way, they also recruit Veer (Viineet Kumar), an operative who has been living a double life in Pakistan for a year. As they reach nearer their target, Kabir faces ghosts of his own past, mistrusts within his own team and finding out the secret mole in his agency. Not to mention, dealing with a sneaky but cunning Pakistani ISA agent Shehzaad (Jaideep Ahlawat).
Bard of Blood, directed by Ribhu Dasgupta and produced by Shah Rukh Khan's Red Chillies Entertainment for Netflix, is based on Bilal Siddiqui's novel of the same name. The title sounds intriguing though, save for Kabir being a professor of  Shakespeare and titles of episodes named after Shakespearean quotes, it doesn't add much to the narrative. Bard of Blood is a fairly straightforward counter-terrorism drama-thriller that is propelled by some strong performances from the cast, excellent choice of locales and terrific camera work from Chirantan Das.
Expanding upon the pros, the first thing that strikes you about Bard of Blood is how visually impressive the whole series feels. Chirantan Das' cinematography, coupled with the dazzling locales where the series have been shot, makes Bard of Blood looks visually impressive. Fans of spy thrillers like Body of Lies, The Jack Ryan series and even Nikkhil Advani's quite underrated D-Day, may find a lot to like about the series, that has frequent bouts of action, thrill and engaging drama.
There are quite a few scenes that stand out in Bard of Blood. Like that spine-tingling sequence when one of the hostages insults the Taliban leader's psychopathic son Aftab (Asheish Nijhawan). Or when Veer, on learning that he has been deceived, behaves like a desperate man and turns on his team-mates. I also loved every scene involving Kabir and his former paramour Jannat (Kirti Kulhari), the sister of Nusrat (Abhishek Khan), the leader of Balochistan freedom rebels. It is interesting to see the representation of a strong-headed, vocal Jannat in the series, that breaks some stereotypes we associate with women in such areas. The politics of Balochistan and the involvement of Pakistan in its affairs, as well as frequent inferences to how India has been using the rebels for their own causes, add a fascinating hue to the story.
The series also ends on a very exciting note that makes you thrilled for season two, whenever that is happening, though the reveal in that sequence is something that could be easily deduced. Bard of Blood Trailer: Emraan Hashmi Is on a Deadly Rescue Mission in Shah Rukh Khan's First Netflix Production and We Are Totally Hooked – Watch Video!
The performances are uniformly great. Emraan Hashmi brings in one of his stronger acts as the emotionally scarred operative out to vanquish both his inner and external demons. It isn't a very flashy performance that we usually expect from the lead of a thriller series that has the potential to go hyper-nationalistic. Emraan keeps its restrained and realistic, letting us in on his character's inner turmoil without going bombastic.
Watch the Trailer of Bard of Blood here:
Sobhita Dhulipala, who was so, so good in Made in Heaven, is very effective as the greenhorn Isha, who has to keep both the squabbling boys in her team in check, as well as, fight the misogyny associated with having women on missions. Viineet Kumar continues his brilliant form as the operative who just wants to go home. He is brilliant in his introductory scene, and also when he faces his team-mates over the lies they told him.
Kirti Kulhari delivers a very nuanced act in her formidable, but the tragic portrayal of Jannat, a woman whose allegiance is often brought to question by the series. Ultimately, she ends up being the most empathetic, heroic character who proves you don't need to fire a gun to be a hero. Jaideep Ahlawat is fantastic as the main antagonist, with an ability to snake out of any precarious situation. Abhishek Khan is natural as Nusrat, the young leader of the Balochi rebels.
Now let's talk about the cons. While Bard of Blood scores good points in most of the technical aspects, I wish the action choreography would have been better. The series has a very good potential to deliver some thrilling fight sequences, but save for the skirmish Kabir and team have at the border of Pakistan, none of the rest registers an impact.
Another big drawback that I saw in Bard of Blood is the predictability of its premise. Bard of Blood may lack the layered narrative that Netflix's best Indian offering, Sacred Games, possesses, but that would be forgivable if the script would have been stock full of surprises. The series has many twists and turns, but it is not difficult to gauge most of them, making Bard of Blood play it like a straight game with no unexpected upheavals. Certain secondary characters like the agency head (Shishir Sharma) and the Taliban heads come off more as one-dimensional characters rather than memorable standouts.
Yay!
- The Performances
- The Making and the Cinematography
- The Locales
- A Few Well-Shot Sequences
- The Cliffhanger
Nay!
- Predictability of the Screenplay
- Uninspired Action Choreography
- Caricatured Secondary Villains
- Lacks a Layered Narrative
Final Thoughts
Netflix and Red Chillies' Bard of Blood is an appealing espionage drama with quite a few moments of thrills, and well-rounded performances. Though, the narrative's predictability proves more than once to be its Achilles Heel. With a promise of a very interesting second season, here's hoping that the makers iron out the flaws to bring an exemplary show on the lines of 24 and Homeland (only that first season). The first season is now streaming on Netflix.