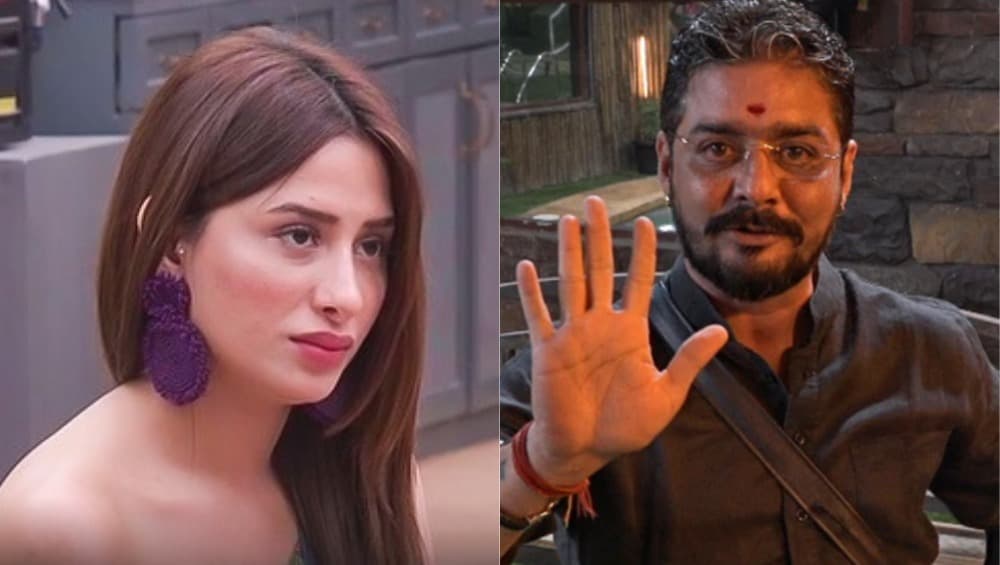 Hindustani Bhau aka Vikas Fhatak, who entered the Bigg Boss house a few weeks back as a wild card contestant might be entertaining for a set of people, but we always knew that he will end up crossing the line and say something really objectionable to a co-contestant. We were not wrong as he passed nasty comments on Mahira Sharma on last night's episode of Bigg Boss 13. It so happened that Bhau (as he is called by everyone inside the house) was assigned a task wherein he had to talk about a few contestants in his style, as if he was making viral videos.
It all started as all things fun, but the task took a nasty turn when Bhau started talking about Mahira. At the very beginning, he ended up calling her "bade honth waali chipkali (a lizard with big lips)". Paras Chhabra found it funny and encouraged Bhau by laughing on this, but Mahira, of course, was not very pleased. Bigg Boss 13: Mahira Sharma and Paras Have A Showdown As The Latter Laughs When Hindustani Bhau Calls Her 'Bade Honth Wali Chipkali' (Watch Video).
Check out the promo to know what exactly happened: 
Mahira's mother, Sania Sharma is also angry over Hindustani Bhau's comments on her daughter. In an interview with SpotboyE, she lashed out at him and said that he should have command over his language. "I am extremely disturbed with his (Hindustani Bhau) comments. One should have a command on his language especially when you are being seen on national TV. I am very disappointed that he is calling my daughter lizard and commenting on her lips size just to make his video entertaining. I was very happy when he entered the house and called my daughter her younger sister. But with his latest act, I just want to ask how can a brother make fun of his own sister on such a big platform just to get some footage?," Sania was quoted by the entertainment portal.
Mahira's mother also feels that all Bhau is doing inside the house is bitching about people. "The only thing Hindustani Bhau is doing inside is bitching about everyone; whichever group he is sitting with, he starts bitching about another one. Also, he is not the person who he is trying to be. Just go and check the videos he has made and posted on his YouTube channel. I also want to tell those who are going on my daughter's looks that she is the most beautiful girl inside and those who are commenting on her are just jealous," she was further quoted. Honestly, we agree with Sania here. Vikas knows that he is on national television and he can't be using the same language that he uses in his YouTube videos. Hoping that host Salman Khan explains this to him on the coming Weekend Ka Vaar of Bigg Boss 13.