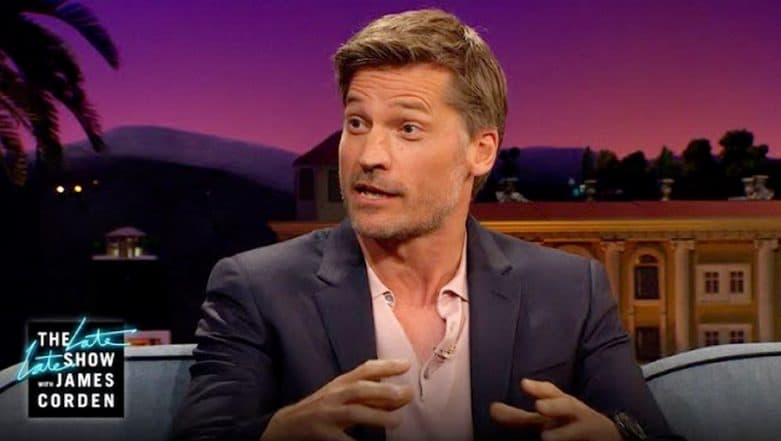 Game of Thrones is one of the most popular shows in the history of world television. The eighth and final season of the fantasy show, based on George RR Martin's novels, airs on April 14, 2019. That's just days away now. This means that soon enough, fans will finally find out the ultimate fate of Jon Snow, Daenerys Targaryen and the rest of the Westerosi. Yes, with just days to go until the season 8 premiere, the excitement among Game of Thrones (GOT) fans in India is reaching a feverish pitch. And while we are chewing our nails out of excitement and nervousness to see what's in store for us in the final season of the HBO's magnum opus, one of the show's primary actor and our favourite 'Lannister', Nikolaj Coster-Waldau (who plays Jamie Lannister in the series) confesses that Game of Thrones had a pretty appalling pilot. Game of Thrones: India Ranks Fourth amongst Countries Most Excited for Season 8, Reveals Instagram Data
The actor, who recently (Wednesday) appeared on The Late Late Show with James Corden to promote his series, said that the original cast recently sat down to watch it with the show's creators - Dan and David and it was unbelievably bad. Yes, while conversing with the host, Coster-Waldau made this startling confession as he said, "It was unbelievably bad. It was actually amazing to see. And there's no reason that we're sitting here talking about this today; no one should have picked that up."
However, Coster-Waldau revealed that there was this one guy, Richard Pleper the CEO of HBO, who liked the pilot and gave the go ahead. Coster-Waldau further added, "When Richard Pleper went like, 'This is great! Let's do it', we did it, and we reshot." The rest, as they say, is history. Game of Thrones 8 Premiere: Here's When and Where You Can Watch The Series!
Catch the Video Here:
Well, this is not the first time someone has dissed the pilot of the show. Earlier, the showrunners David Benioff and DB Weiss too had confessed that the show's pilot was bad so much so that they had to reshoot it. Yes, in a 2016 episode of the podcast "Scriptnotes," David said that watching the pilot was "one of the most painful experiences" of his life. Fortunately, the pilot, which was a total trainwreck, never saw the light of day. Well, Game of Thrones season 8 premieres this Sunday at 9 pm on HBO. Stay tuned to LatestLY for more updates.