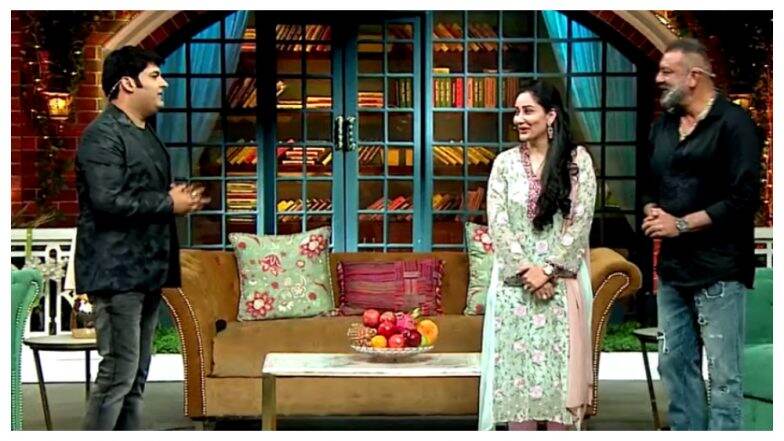 Sanjay Dutt is coming out with his new film, Prassthanam - he has produced the film and also stars in it. The actor is on a promotional spree for the same. And that means we will see Sanjay Dutt on reality TV shows all week long. One of his pitstops was the popular comedy show, The Kapil Sharma Show. In the latest promo of Sanjay's episode, released by the channel, we see the actor crack a joke about his time in prison and it might leave you in splits. Sanjay sure has a wicked sense of humour. Prassthanam Trailer Video: Sanjay Dutt's Political Drama is All About Legacy and Revenge.
So, what happened was that Kapil welcomes Sanjay and his wife, Maanyata, on the episode, by quipping that it took the actor a long time to turn up on The Kapil Sharma Show. Sanjay, wittily, replied "Actually our stars are not aligned. When your show was on, I was in [jail]. When I finally came out, your show shut down." The joke sends Archana Puran Sing and the audience into a round of laughter. Prassthanam Title Track: Seeing Sanjay Dutt, Manisha Koirala, Jackie Shroff in One Song Will Make the 90s Kid in You Very Happy (Watch Video).
Watch The Promo Here:
We don't have to jog up your memory about Sanjay's time in the Yervada Jail. Neither about the time when Kapil Sharma's show shut down. Do we? Or about Sanjay's Prassthanam is a political thriller. Kapil also jokes about if Sanjay ended up with any money since Maanayata handled the finances of the movie. The actor quips that he barely got any money.