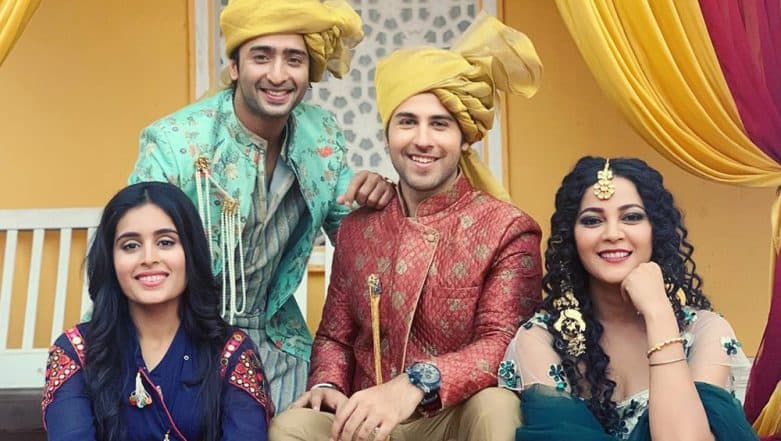 Actor Shaheer Sheikh is one impeccable actor who can pull off any genre of roles and he has already proven so. While he has played a college-going guy in Kya Mast Hai Life and Navya, to doing mythological shows like Mahabharat, a casual businessman who is devoted to his mother in Kuch Rang Pyaar Ke Aise Bhi to now, a carefree guy with modern ideologies as opposed to his family, Shaheer can mould himself into any character and that's what makes him an A-lister on television. Yeh Rishtey Hain Pyaar Ke Review: Shaheer Sheikh and Rithvik Arora Steal The Episode; Rhea Sharma Also Impresses Us!
Ask him about Abir Rajvansh, and the message that his show aims to give to the audience, Shaheer revealed to IANS, "The message that we are trying to give is that the girl should have the choice to decide when she wants to get married. Just because it's the right age, she can't be randomly pushed into a relationship. It has to be her decision." The actor also added that there is a huge responsibility here that of giving the right message to the audience and adds that this is what makes him want to do content-driven shows.
However, in the past, we have come across many such shows where the makers have crumpled under the rating pressure and changed storylines, which have led to creative dissatisfaction amongst actors, which has, in turn, led them to leave the show. Shaheer Sheikh on Playing Abir In Yeh Rishtey Hai Pyaar Ke: 'This Was Exactly The Role I Was Waiting For'
To this Shaheer admits, "I only work with people whom I believe in. I respect Rajan Shahi Sir and I am happy the way things are going on the show. But at the end of the day, it's all about ratings.
All praises for Rajan Shahi, the hunk added "In the future, if we get deviated from our main track...there will be reasons for it. I understand that a producer cannot go into losses. It can't be something that is not working at all and he is still putting money into it. Whatever decision is taken, I will support him. He believed in me, gave me a chance."
Well, now that's some serious dedication, we shall say!