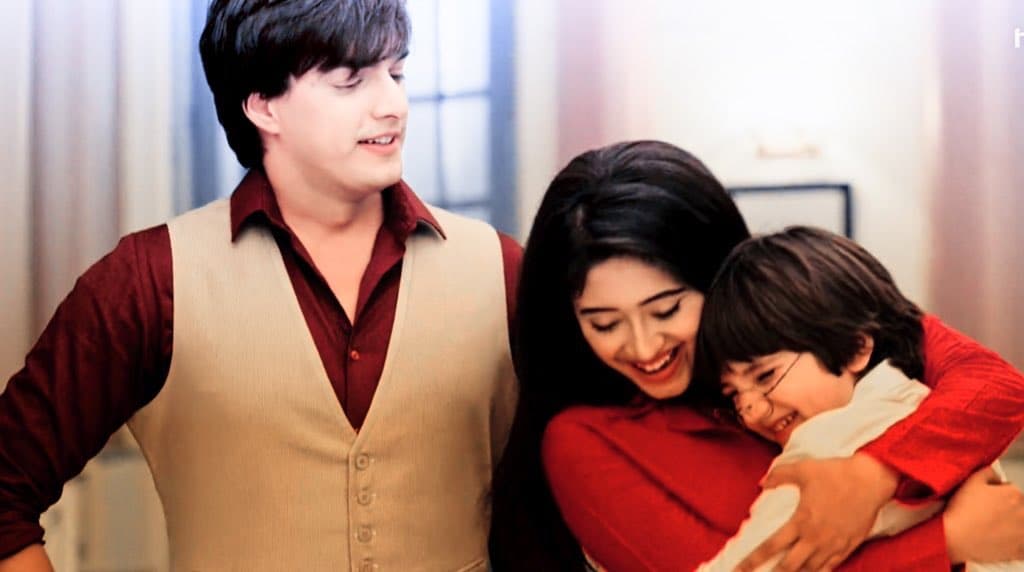 In yesterday's episode of Yeh Rishta Kya Kehlata Hai, Kartik tells Naira that he is going to tell the family about his decision. Vedika gives Kartik divorce papers and tells him to sign it. In tonight's episode, we see Vedika reunite Naira (Shivangi Joshi) and Kartik (Mohsin Khan). Vedika tells Kartik to sign the divorce papers so that she will be freed and Naira will get her rights back. Kartik apologises to Vedika for the pain she went through and signs the papers. Suddenly Suhasini faints as her BP shoots down. The doctor comes and examines her and tells to take rest. All the family discusses Kartik and Naira's relationship. Manish and everyone say that they all will support Vedika's decision. 
Vansh and Kairav wonder what is going on as all look upset. Vedika sees the divorce papers lying on the floor and picks it up before Kairav reads it. Meanwhile, Kartik and Naira talk openly about what all happened in their life. Naira says they love each other but Vedika will suffer her whole life. Kartik says but staying in a relationship when two people don't love each other is meaningless. Suhasini dreams that Vedika took some pills and committed suicide and panics and gets up. Vedika comes and assures Suhasini that she is fine and she will never take any wrong step. Suhasini tells Vedika that she can punish her. as she was the one who forced her for this marriage. Vedika makes all understand that she is happy and they should not worry about her and celebrate happiness together.
Naira gets disturbed as she cannot see Vedika unhappy and curses herself for her situation. Vedika comes and holds her hand. Naira apologises to Vedika as because of her she took this decision. Vedika says that Kartik only loves her and she also loves him so they should stay together. Vedika says Kartik's life starts and ends from her and there is no space for anyone else. Yeh Rishta Kya Kehlata Hai's Mohsin Khan Demands A Separate Vanity Van Post Break Up With Shivangi Joshi
Next day morning, Kartik signs the divorce papers and hands it to Vedika. Naira tells Vedika that she should not leave the house and live with them. Vedika says staying in the same house will create more problems for all. Vansh and Kairav tell Vedika that they are going to miss her. Devyani and Kaveri also come to meet Vedika and invite her to stay in their house.  Vedika thanks them for the invite but says she has to leave and goes. The family discuss Naira and Kartik's re-marriage. Suhasini tells that they should not wait now and arrange for their marriage soon. Naira and Kartik hear this and become happy. Kartik thinks he was waiting for the right time to propose Naira and this is the right time.
In the next episode, Kartik and Naira behave like children as they feel awkward to propose each other.