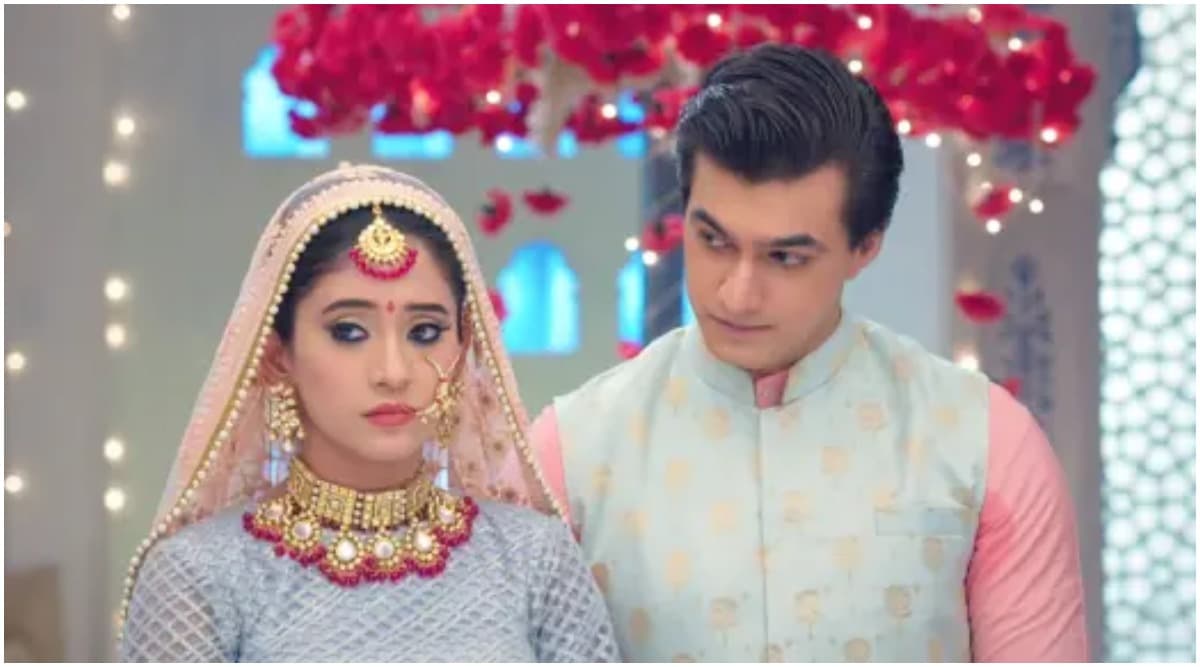 In yesterday's episode of Yeh Rishta Kya Kehlata Hai, Naira and all were shocked to see a stranger in the place of Kartik in the mandap. Later, Kartik comes and Naira and he get married with all the rituals. Luv and Kush also come on time. All are happy to see them. In tonight's episode, we see Suhasini says that she didn't get a chance to meet Luv and Kush. Manish says that the duo is accompanying them at home only. Luv and Kush decide to go home through their bike. Suhasini allows them. Naira (Shivangi Joshi) gets emotional while leaving for Goenka's house. Later, like before Kartik asks for the selfie in the car. Niara, Kairav, and Kartik (Mohsin Khan) take the selfie. Yeh Rishta Kya Kehlata Hai January 20, 2020 Written Update Full Episode: With Kartik Running Late, Naira Ends Up Being on the Wedding Mandap With Another Man.
When Luv and Kush reach the Goenka's they get shocked seeing Trisha. They think might be she came to complain about them to the family.  Just then Naira comes with Kartik and seeing Trisha get happy and hugs. Naira introduces Trisha and tells the family that she is a good dancer and came from Rishikesh to join her dance academy. Luv and Kush stand stunned. Naira than pleads the family to let Trisha stays with them. Suhasini allows her
Kairav does the Gruhapravesh rituals of Kartik and Naira. The Goenka's welcome the newlywed couples. Naira than decides to welcome Luv and Kush and says she is meeting the duo after so long. When Kartik and Naira enter the room, Kartik gets surprised seeing no decoration in the room. Kairav comes and tells  Kartik and Naira he will sleep with them from now onwards. Naira tells Kartik that this is the reason no one decorated the room. Later, Gayatri and Samarth tell  Naira and Kartik that they have arranged honeymoon sweets for the duo. Yeh Rishta Kya Kehlata Hai January 17, 2020 Written Update Full Episode: A Stranger Takes Kartik's Place at The Wedding Mandap Next to Naira and Leaves Everyone Shocked.
Meanwhile, the Goenka's decide to spend time together around a bonfire. Luv and Kush agree to escape from Trisha. Naira before leaving prepares food for Luv and Kush. Luv and Kush feel uncomfortable spending time with the family. Kairav and Vansh questions  Luv and Kush and the duo thinks both the kids are irritating. Akhilesh asks Luv and Kush to have food prepared by Naira. Luv and Kush throw the food but Trisha catches them. There, Kartik and Naira spend time together in the car and recalls their moments with each other. In the precap, Naira spots Luv and Kush with Trisha. Trisha tells something to Naira and Kartik, they get angry on Luv and kush.