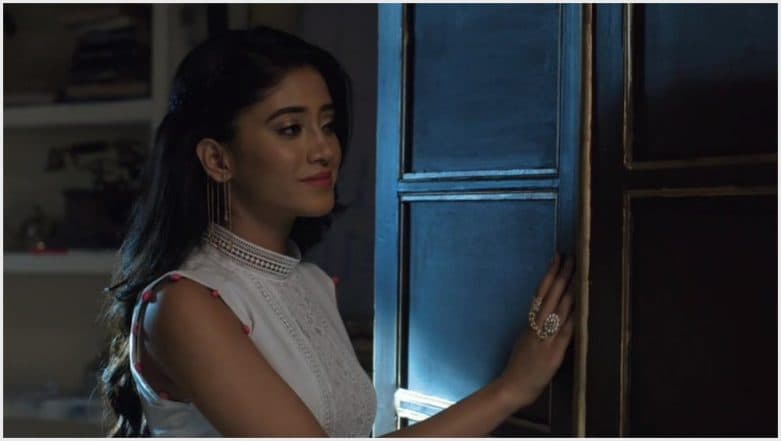 In the last episode of Yeh Rishta Kya Kehlata Hai, we saw an emotional text from Kartik has Naira feeling confused. Later, she takes an unexpected decision as he leaves for the airport. Today's episode starts with  Naira (Shivangi Joshi) searching for Kairav and sees him praying in front of God and telling that his father is bad as he left him and went. Naira tries calling Kartik (Mohsin Khan) but the phone is switched off and thinks maybe he is gone and gets tensed as what will she do now. Yeh Rishta Kya Kehlata Hai July 5, 2019 Written Update Full Episode: Naira Takes Kairav To Meet His Father, But Kartik Leaves Goa.
On the other side, Kartik is doing the last minute documentation in the exhibition, they tell him that he has to wait for one more day as some more papers have to be signed, Kartik gets happy as he will get more time to play with Kairav.
Meanwhile, Naira brings Kairav to his school but he is upset. Naira tries to cheer him up by playing with him and his friends but he is still sad and goes inside the school. Naira feels sorry for Kairav as she could not do anything for his kid and thinks earlier he was much happy before meeting Kartik.
In the Goenka house, Suhasini and Vedika reach home, Vansh is happy to see them come back. Kartik calls Vedika and informs her that he has to wait one more day in  Goa. Vedika asks if he met the kid and tells him to meet him as he wants it to.  Suhasini watches Vedika and Kartik talking and feels happy.
On the other hand, Naira comes to the school to pick up Kairav, she comes with a gift for Kairav. Kairav sees Kartik and hugs him, he is so happy seeing him. Naira hides behind a pillar and watches them enjoy together. Kairav searches for Naira who picks him up by this time. Kartik calls Naira to enquire where is she as Kairav is waiting for her. Naira changes her voice and talks with Kartik and tells him to drop Kairav home as she is stuck in some work. Naira gets emotional as she wants to meet Kartik but is scared as to how will he react when he sees her.
Meanwhile, Kairav comes home with Kartik and asks Lisa where is Kairav's mother. Kartik tells  Lisa how careless is Kairav's mother and why is she ignoring him. Lisa tries to defend Naira and chides Kartik as he does not understand a single mother's problem. Kartik tells her that he is so attached with Kairav that he cares for him and wants him to be saved. Naira also comes home and watch Kartik so troubled for Kairav and feels good but at the same time is upset as she is not able to tell him the truth. Kartik tells that he will go now and leaves, Kairav hugs him and tells him to come soon.
In the precap, Kartik remanences Naira and thinks if they would have a kid then he would look just like Kairav. Akhilesh comes to  Goa and sees Naira and is shocked