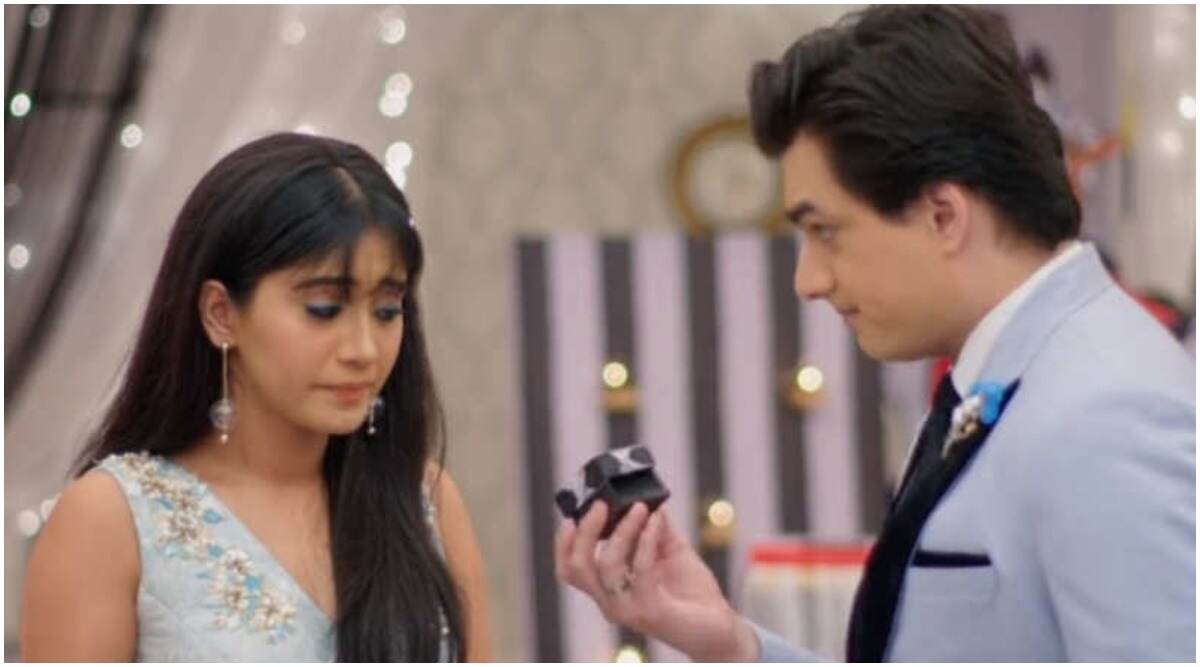 In yesterday's episode of  Yeh Rishta Kya Kehlata Hai we saw Jolly Singh challenges Naira to a dance competition at the family picnic. Later, Kairav is shocked when she accidentally spills the beans. Tonight's episode starts with Kartik (Mohsin Khan) falls down, Naira (Shivangi Joshi) calls out his name loudly and comes near him. Kairav hears her calling Kartik's name, all get tensed as to how will Kairav react. Kairav comes near Kartik and tells sorry as Naira called him by his old father's name. All are happy as he did not come to know the truth.  Naira gets tensed and goes from there. Yeh Rishta Kya Kehlata Hai November 11, 2019 Written Update Full Episode: Kairav Is Shocked to Hear Naira's Revelation After Kartik Prompts Her to Spill the Secret.
On the other side, someone calls Surekha out, she goes to meet. Meanwhile, Kartik comes to console Naira and tells her she is unnecessary taking tension, Naira says it just happened and she did not purposely take his name. Kartik says he understands her and that it happens and holds her close to her and tries to kiss her (dilu khe muhalley mein tere mere baatey karna track plays in the background), they get romantic in each other's arm. Naira controls her feeling and tells Kartik to stay away from her as it is wrong and that she is here just to make Kairav happy and leaves from there.
Meanwhile all the family is planning to play a game of plowing the flowers from the pool but Naira tells them to change the game as it is risky. Naksh says the game is of collecting the flowers but by a rope and not by going inside the pool. Kairav and Vansh tell that they want this game only. All get ready to play the game. Naksh and Kartik make Naira understand that she should not worry as they all are there.  Suhasini sees Surekha going out and asks Swarna where is she going and did she tell her anything, Swarna says maybe she is tensed as no one is there in her life to share her sorrows. Yeh Rishta Kya Kehlata Hai Couple Shivangi Joshi and Mohsin Khan Have Parted Ways? Read On.
Later, Naira gets the same dream and  gets disturbed, the game starts, Kartik, Naksh, and Samar throw their rope to collect the lotus. Kairav gets happy as Kartik gets the lotus first. Vansh goes to use the washroom, as he is going he sees Surekha talking with a stranger. Meanwhile, Kairav tells Kartik to give the lotus to Naira and make her his best friend. Just then Vansh comes and says Surekha is crying and she is with some uncle, all go out to see who is it.  They get shocked to see Akhilesh with Surekha. Surekha pleads all not to scold Akhilesh as she called him here and she was talking with him on the phone as he misses them all. Surekha says when she came to know that Akhilesh is not well she went to meet him and saw that he needs her and that she has forgiven him for his mistakes. Akhilesh says no one wants him here and goes from there. Surekha pleads Suhasini not to let him go and call him back, just then the staff of the resort shouts that someone is drowning in the pool, all panic and run inside. In the precap, Naira falls inside the pool, Kartik goes in and saves her and brings her out, his beard comes out in the water. Kairav sees Kartik with Naira.