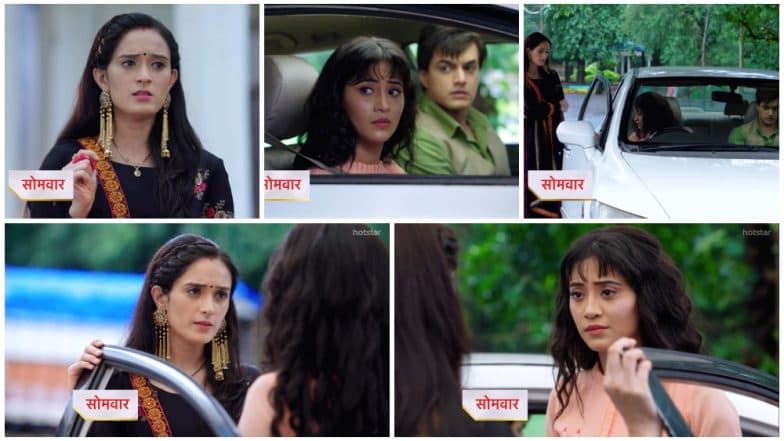 In the last episode of Yeh Rishta Kya Kehlata Hai, we saw Naira telling Kartik the truth about Akhilesh and Lisa's affair. Meanwhile, Vedika is shocked to spot them together. Tonight's episode starts with  Kartik (Mohsin Khan) hugging Naira (Shivangi Joshi) when she cries and is worried for Lisa. Naira tells Kartik that Lisa is telling the truth and asks him if he trusts her? Kartik holds her and says that he trusts her and that before too, it was not only his fault but her's too, as he'd asked the question but she did not answer him and created more problems. Naira says that they should solve Lisa and Akhilesh's problem first. They discuss what to do further. Yeh Rishta Kya Kehlata Hai September 13, 2019 Written Update Full Episode: Vedika Gets Upset on Seeing Kartik and Naira Together
Back in the Goenka household, Suhasini sees Akhilesh and tells him that she wants to ask him something but he says he is tired now and will talk later and goes inside. Meanwhile, Kartik and Naira come home, Kartik assures Naira that he is there for Lisa and her if they need him. Naira tells Kartik that he should tell Vedika about this as they may have to work together to solve this issue and she (Naira) does not want Vedika to doubt him. Just then Vedika comes from behind and asks Kartik if his factory problems have been solved. Kartik says he had some work but before that they…. Vedika says why did they had to meet in a café and questions them that they could have met in the house and spoken. Kartik tells her that he met Naira outside as they had some work but now he cannot disclose it to her as it will create complications. Vedika says that he should clear things between them as they are life partners and goes. Yeh Rishta Kya Kehlata Hai September 12, 2019 Written Update Full Episode: Naira Confesses to Kartik That She Observed a Fast During Teej on Kairav's Insistence
Next morning, Suhasini plans to bring Lord Ganesha home as Kairav will be happy. Suhasini says that Ganesh will come and solve all the problems. In the Singhania household, Lisa is packing her clothes and Naira tells her not to go and that they will try to solve the problem together. Naira tries to console Lisa and asks her to be brave and face the problem. Meanwhile, Kartik is on the way to the Singhania house, but his car stops. Naira sees him and gives him a  lift.  Kartik asks how is Lisa, Naira says she is not fine and that they have to do something fast. Kartik gets emotional and says what will Surekha and the kids go through when they come to know about Akhilesh. Naira consoles him and tells him to be strong. Just then Vedika comes and sees them together and gets disturbed.
After the confrontation, Akhilesh reminisces about Lisa and gets worried about what will happen when everyone will  come to know about his affair and what will happen to Lisa and gets emotional. Kartik sees them and tells him that he has done wrong with everyone and goes. Later, in the kitchen when Naira tries to help Vedika, she chides at her and tells her to do her work and not intervene in her.
 In the next episode, Kartik does aarti with Kairav and Lisa walks into the Goenka Mansion.