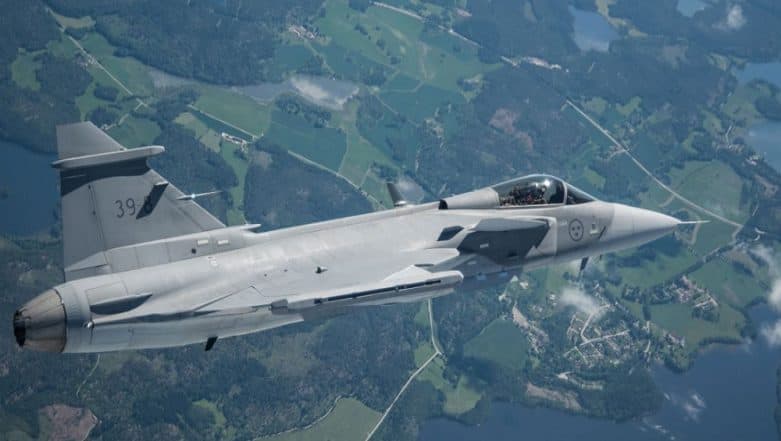 Chennai, April 13: After Lockheed Martin and Boeing, Swedish company Saab is also eyeing to seal $15 billion deal for supplying 110 fighter jets to the Indian Air Force (IAF). Saab expressed its wish to make India its home market.
The Indian Air Force has initiated the process to procure 110 fighter jets last week. The Indian Government issued Request for Information (RFI) for the same. In an interview to Bloomberg Quint Jan Widerstrom, chairman and managing director at Saab India Technologies Pvt. Ltd said, "We are glad to see that the process has started." He further added that Saab was pitching its latest Gripen-E to India.
Saab has tied up with India's Adani Group for manufacturing fighter jets for The IAF. The Swedish company was also a part of the India's earlier programme for procuring medium multi-role combat aircraft. The programme was scrapped by the Modi government after a 10-year long bidding process. The Indian government struck government to government deal with France to acquire 36 Rafale Jets in fly-away condition from Dassault Rafale. According to the earlier programme, The Indian government was to order 126 Medium Multi-role Combat Aircraft. Eighteen fighter jets were to be procured in fly-away condition and rest 108 fighter jet were to be manufactured in India.
Prime Minister Narendra Modi, while formally inaugurating the DefExpo 2018 in Chennai said, "We plan to ensure that the process for the new 110 aircraft through strategic partnership is shorter, unlike 10 years it took under the previous government." Saab also offered transfer of technology to India. As reported by Bloomberg Quint, Widerstrom said, "We have offered transfer of technology and 'make in India' to the government. Our offer is lot more than moving a second-hand production line to India," He further added, "We plan to bring state-of-the-art technology and production line along with capabilities which will eventually lead to thousands of jobs in India."
Saab's association with the Indian Armed Forces can be traced three dacades back. 1974, Saab sold Saab Carl Gustav Anti Tank System to India.