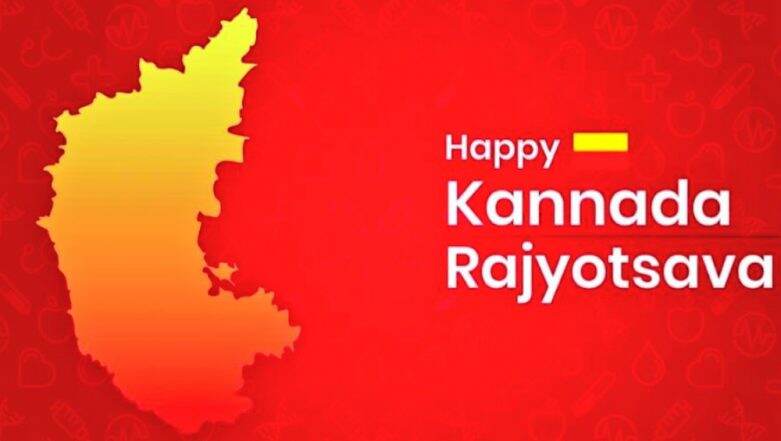 The southern state of Karnataka celebrates Karnataka Formation Day also called as Kannada Rajyotsava on November 1. The state of Karnataka came into being on this day in the year 1956. All the Kannada speaking regions were merged to form the entire state of Karnataka. Kannada Rajyotsava 2018 is the 63rd year of the state formation and it will be celebrated in much fanfare. It is a government holiday in the state, celebrated by not just in Karnataka but by all the Kannada speaking people. On this day, the Government of Karnataka has a flag hoisting and the list for Rajyotsava Awards is also announced. Besides, there are community festivals and programmes organised which see the major participation of the people. November 1 is State Formation Day for Seven Indian States: Know Why and How Karnataka, Kerala, MP, Punjab, Haryana and Chhattisgarh Formed. 
History of Karnataka Foundation Day
The state of Karnataka was earlier called as Mysore, founded on November 1, 1956. The name was not acceptable to people of all regions so after a long discussion it was renamed as Karnataka in the year 1973. Celebrations that spread across the entire state, people are geared up to bring in the day of Karnataka Rajyotsava. The flag of Karnataka is hoisted at various places, political offices and localities and people wear their best of dresses to mark the day.
Celebrations of Karnataka Rajyotsava
The state government presents the Rajyotsava awards, which are conferred on people for their great contributions towards the improvement of the state. The Chief Minister is present for the inauguration of the many cultural programmes that follow on. There is a grand procession which sees a beautiful cultural display of the state's peculiarities.
It is a day not restricted to any religion so all the residents come together for these celebrations. The festivities go on throughout the day while several societies and organisations also hold their own celebrations to mark the importance of the day. Politicians and people greet each other on social media.
Check some tweets on Karnataka Rajyotsava
My compliments to the people of Karnataka on #KannadaRajyotsava, the State Formation Day today. I wish the people live in peace and prosper in all walks of their lives. #Karnataka pic.twitter.com/iyVo7yOA3Y

— VicePresidentOfIndia (@VPSecretariat) November 1, 2018
Happy #KannadaRajyotsava to all the Kannadigas. A big shout out to you guys for being so awesome, welcoming, warm and lovely.

6 years in Bangalore have been super great and enriching.

Naanu Kannadannu Preethisuthene ❣️

— Ritika Jha (@RitikaSpeaks) November 1, 2018
Happy birthday Karnataka #KannadaRajyotsava :-)

— Smita Prakash (@smitaprakash) November 1, 2018
Since it is a public holiday in the state, the private organisations ensure they celebrate the day on the following days. Offices, business establishments, schools encourage people to know about the history and pride in the significance of the foundation day.