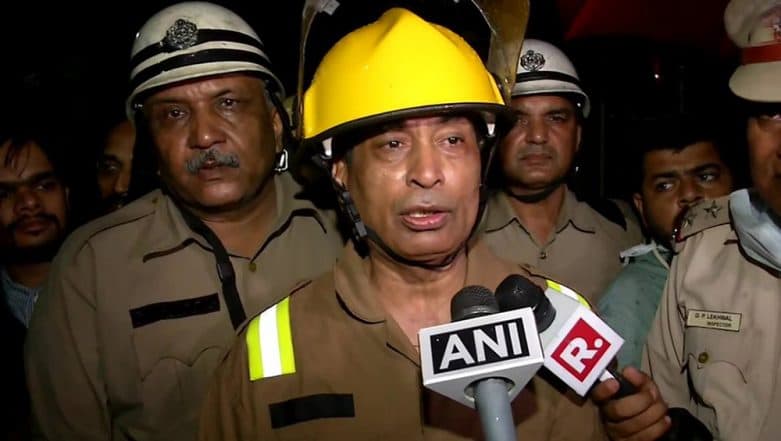 New Delhi, August 17: The fire that raged for more than five hours at AIIMS, India's premier medical facility has finally been brought under control, said Delhi Fire Service Director, Vipin Kental. The cooling operation is underway currently, said the fire service director. The fire staff will be in the hospital for some more time to monitor the situation. AIIMS Fire: Flames Engulf Fifth Floor of Hospital, Arun Jaitley's Ward Safe, Says Doctors at Premier Medical Facility.
The major fire at AIIMS, which caters to hundreds of people everyday, left patients and their relatives in panic and disrupted emergency services of the hospital Saturday evening.
The fire, which broke out late afternoon in the hospital and caused extensive damages to the first, second and third floor of the PC Block was doused by approximately 6:25 pm.
Read the ANI  Tweet Below
Delhi Fire Service Director, Vipin Kental on fire at All India Institute of Medical Sciences (AIIMS) Delhi: Fire is completely under control. Cooling operation is underway, they'll continue for some more time, the staff will be here to monitor that. No casualty has been reported. pic.twitter.com/TFzvl80qQ2

— ANI (@ANI) August 17, 2019
A total of 34 fire tenders were pressed into service and firefighters were able to contain the fire from spreading to nearby blocks. No casualty has been reported. A Delhi Fire Services Department (DFS) official said they received a call about fire at around 5 PM and 34 fire tenders were rushed to control the blaze.
The fire started at Microbiology department's virology unit. Sources said the fire spread to the adjacent Emergency Lab in the department of Lab Medicine, which is adjacent to the Microbiology department's virology unit, where electricity work was going on for some time and cables being used were kept, they said. (With ANI Inputs)