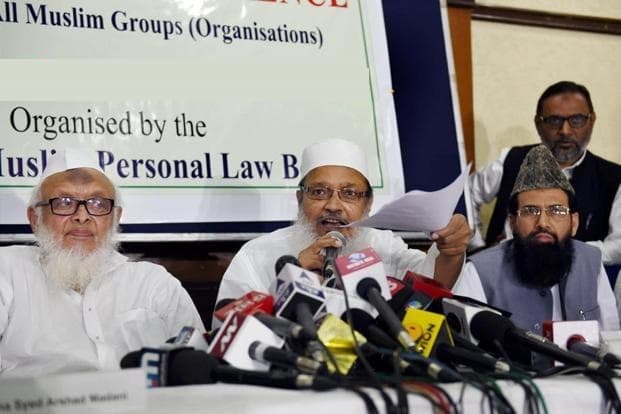 New Delhi, November 17: The All India Muslim Personal Law Board (AIMPLB) on Sunday finalised its decision to challenge the Supreme Court judgment in the Ayodhya land dispute case. The top Muslim body issued a statement confirming that it would be filing a review petition against the recent apex court verdict issued unanimously by a five-member bench. Ayodhya Verdict Highlights: Key Points From Supreme Court Judgment on Ram Janmabhoomi-Babri Masjid Title Dispute.
Even as the AIMPLB decided to challenge the Supreme Court order, top members of the Board sounded pessimistic over its outcome. Maulana Arshad Madani, who heads one faction of the Jamiat-e-Ulema-Hind, said the right to review must be exercised as the Board is of the opinion that the Muslim side has been subjected to injustice.
"Despite the fact that we already know that our review petition will be dismissed 100 percent, we must file a review petition. It is our right," Madani said.
Notably, the other two Muslim stakeholders - original litigant Iqbal Ansari and the UP Sunni Central Waqf Board - have decided not to file a review plea against the Supreme Court order. While Ansari has called for an end to the dispute which has kept both Muslims and Hindus on the edge for several decades, Waqf Board chief Zafar Farooqui said it would not be challenging the decision to "prevent any further social divide".
The top court, in its judgment issued on November 9, decided to handover the disputed site to Ram Janmabhoomi Nyas. The central government has been tasked to constitute a trust which will built the Ram Mandir at the site where Babri Masjid once stood.
The Waqf Board must be given a five-acre land in Ayodhya as compensation for building a mosque, the SC ruled. The judgment further noted that the mosque which once stood at the site was "desecrated" on the intervening night of December 22-23 in 1949 and illegally demolished on December 6, 1992.