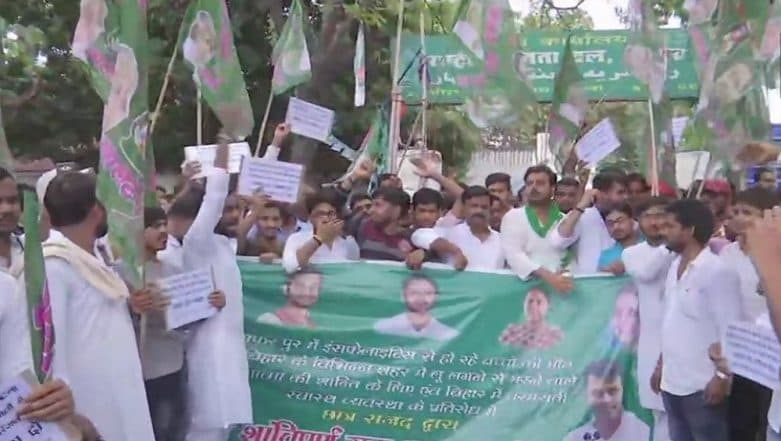 Patna, June 23: Rashtriya Janata Dal (RJD) student wing on Sunday marched to Raj Bhavan in Patna to protest against the Nitish Kumar government over health situation in Bihar. Protesters demanded the resignation of state Health Minister Mangal Pandey and formation of a committee to investigate the situation due to Acute Encephalitis Syndrome (AES). The protesters also raised demand for compensation for affected families. Bihar: Acute Encephalitis Syndrome Death Toll in Muzaffarpur Touches 117.
Visuals of the protest:
Bihar: RJD student wing marched to Raj Bhavan, Patna, in protest against state govt over health situation in state. Protesters demanded resignation of state Health Min Mangal Pandey, formation of committee to investigate the situation due to AES&compensation for affected families pic.twitter.com/gBaBlcwFBN

— ANI (@ANI) June 23, 2019
Close to 130 children died due to AES in Muzaffarpur district alone. The most number of casualties occurred in Sri Krishna Medical College and Hospital (SKMCH). The Bihar government announced Rs 4 Lakh each to the family member of deceased and free of cost treatment for the affected. National Human Right Commission (NHRC) has also issued a notice to Nitish Kumar seeking a detailed report in deaths due to AES in Muzaffarpur. Seven Encephalitis Deaths in Vaishali, Posters Put up Awarding Rs 15,000 For 'Missing' Ram Vilas Paswan.
On June 22, locals in Harivanshpur village of Bihar's Vaishali district put up banners and stuck posters on their cattle, to find Union Minister Ram Vilas Paswan and Local MLA of the area. The posters were put up as none of them visited the village even after the death of seven children due to AES. The locals announced a reward of Rs 15,000 for the one, who finds Union Minister Paswan.