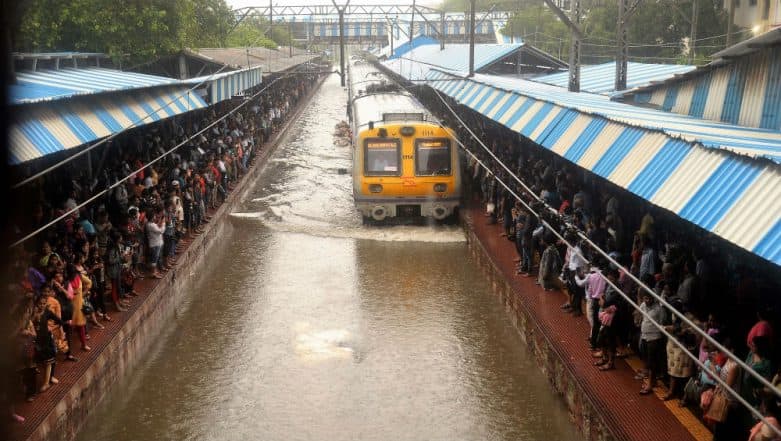 Mumbai, July 2: Local train services on Central and Harbour lines resumed functioning in Mumbai on Tuesday as the weather improved partially after four consecutive days of heavy rain. The Central Railway suspended local train services due to inundation of tracks especially in Kurla from heavy rain. The local trains, considered the lifeline of Mumbai, were suspended from Chhatrapati Shivaji Maharaj Terminus to Kalyan, Badlapur, Karjat, Titwala, Vashi and Panvel. Catch live updates on Mumbai rains here.
As heavy rainfall stopped, the Central Railway ran six special trains from Chhatrapati Shivaji Maharaj Terminus to Kalyan, Badlapur, Karjat and Titwala. A special train also left Thane railway station for Dadar. Local train services from Chhatrapati Shivaji Maharaj Terminus to Vashi on Harbour line also resumed. Services had been suspended due to tracks getting submerged at various locations following a heavy downpour. Mumbai Rains: BMC Declares Public Holiday, All Offices, Schools and Colleges to Remain Shut on 2nd July as IMD Forecasts Heavy Rainfall in The City.
Local trains were running up to Dhanu on Western line. Road transport and flights were also affected due to heavy rainfall. Traffic snarls were reported for the second consecutive day in Mumbai and the suburbs as many areas were waterlogged and the subways in Andheri, Jogeshwari, Vile Parle and Dahisar flooded. A road caved in near a construction site in Chandivali. Mumbai Rains: Maximum City is at Risk of Flooding Between July 3 & 5 Due to Heavy Downpour, Says Skymet Weather.
Flight operations at Mumbai's Chhatrapati Shivaji International Airport were severely hit due to heavy rains, while a Spicejet aircraft overshot the runway shortly before midnight. Till noon today, at least 55 incoming flights were diverted, including 26 international. There were 13 go-arounds, and cancellations of 18 incoming flights and 24 departures, a spokesperson for Mumbai International Airport Ltd (MIAL) told IANS.
At average 375 mm, Monday's was the maximum July rain that Mumbai has seen over a 24-hour period breaking records since 1974.