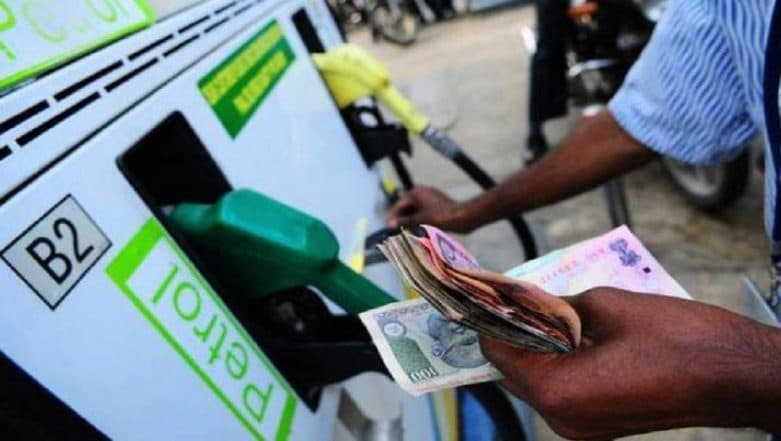 New Delhi, December 23: Fuel prices were marginally slashed on Sunday for the third consecutive day. With this, petrol was sold at the lowest price in Delhi since January 5, this year. Petrol was sold at Rs 70.07 in the national capital. Meanwhile, in other metro cities also, fuel prices were reduced. In Mumbai, the price was retailed at Rs 75.69, whereas in Chennai and Kolkata, the price was Rs 72.70 and Rs 72.16 per litre respectively. Petrol Will Cost Only Rs 34 Per Litre, Diesel Rs 39 Per Litre Without Tax, Dealer Commission; Check Which Taxes Make Fuel So Expensive.
Similarly, diesel prices were also reduced today. In Delhi, diesel was sold at Rs 64.01 per litre. In Mumbai, per litre cost of diesel was Rs 66.98, whereas, in Chennai and Kolkata, diesel was sold at Rs 67.58 and Rs 65.77 per litre. Yesterday, one litre of petrol was sold at Rs 70.34 in Delhi and Rs 75.96 in Mumbai. In Chennai petrol was retailed at Rs 72.99 per litre on Saturday, while, In Kolkata, petrol was sold at Rs 72.43 per litre. Meanwhile, yesterday, one litre of diesel was sold at Rs 64.50 in Delhi, Rs 67.50 in Mumbai, 66.26 in Kolkata and Rs 68.10 in Chennai. Indian Economy in 2018: The Year of Rise And Fall of Markets And Fuel Prices And The RBI Game of Throne
Earlier in October, fuel prices had witnessed a relentless hike as the crude oil prices witnessed a new high. On October 4, the petrol prices had touched a record high of Rs 91.34 per litre in Mumbai and Rs 84 in Delhi. However, after Union Finance Minister Arun Jaitley announced a reduction of Rs 2.50 per litre on both petrol and diesel prices in the second week of October, the prices of petrol and diesel continue to dip. On January 1 this year, one litre of petrol was sold at Rs 69.97 in Delhi, Rs 77.87 in Mumbai, Rs 72.72 in Kolkata and Rs 72.53 in Chennai.