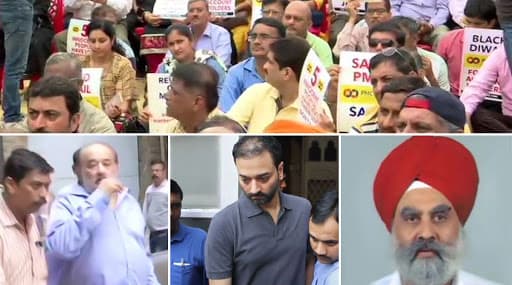 Mumbai, October 22: The Special Court in Mumbai on Tuesday extended the Enforcement Directorate custody of accused Rakesh Wadhawan and Sarang Wadhawan till October 24. Both the Wadhawan due are the promoters of Housing Development India Ltd (HDIL), which is charged with a Rs 4,355 crore Punjab & Maharashtra Cooperative (PMC) Bank scam. Apart from this, the court also extended the police remand of PMC's former director Surjit Singh Arora till October 24.
Earlier in the day, the account holders staged a protest in Azad Maidan of Mumbai after meeting with the Reserve Bank of India officials. They even raised slogans and held placards which read 'Black Diwali, Save Us' and 'Innocents are losing life'. PMC Bank Crisis: Former Bank Director Surjit Singh Arora Arrested After Questioning by Economic Offences Wing, 5th Arrest in Case.
One of the protestors told ANI, "16 lakh families for the past one month have been requesting the government to give our money back and help us. Six people have died, and one girl has committed suicide, but the government is not taking us seriously. The government can take decisions overnight. The decision to cut the Aarey forest was taken overnight. The RBI officials should also be punished as they were auditing regularly and this scam has been happening over a period of 10 months." PMC Bank Fraud: Nirmala Sitharaman Meets Depositors After Facing Protest, Assures Regulations If Necessary.
Following this, the PMC account holders' delegation stated that RBI assured them that their money is safe and appropriate actions would be taken against the offenders. Sources say that the delegation discussed 19 points in details, including medical expenses, marriage expenses, taxes, etc. Union Finance Minister Nirmala Sitharaman had met with bank depositors on October 10 and assured them that the government would bring regulations or amendments in the upcoming Winter Session of Parliament to address the issue. PMC Bank Crisis: RBI Raises Withdrawal Limit to Rs 40,000, Day After Nirmala Sitharaman Meets Shaktikanta Das.
It is to be known that Economic Offences Wing (EOW) of Mumbai Police had made 5 arrests in the PMC Bank fraud case -- including former managing director Joy Thomas. The ED had also questioned Nationalist Congress Party leader Praful Patel for his alleged involvement in the 4,355 crore scam, which has raised doubts on the security of banking system in the country. Meanwhile, RBI had raised the withdrawal limit from Rs 25,000 to Rs 40,000 for the PMC customers.