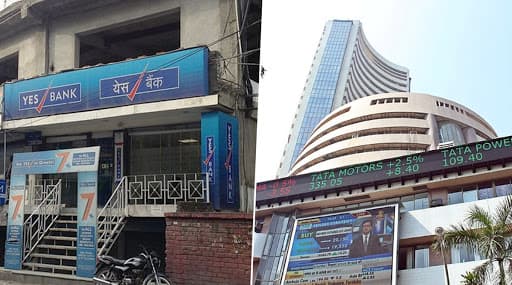 Mumbai, September 30: The stock market on the opening day of the chose a declining slope, even after Union Finance Minister Nirmala Sitharaman assuring the investors that the there is no liquidity crisis and the government would initiate loan melas in the upcoming days. Among the top losers for the first day of the week were banking sectors like Yes Bank, whose stock value declined by 15 percent.
According to the market index, among the top losers were the private and public banks which had a bad Monday. Yes Bank emerged as the top loser with its share price declined to 41.45 by 15.08 percent, while RBL Bank lost 10.21 percent share value. Following the suit, here are the banks who showed a declining trend -- IndusInd Bank (6.57%), SBI (3.7%), ICICI Bank (3.45%), HDFC Bank (1.35%), Syndicate Bank (1.9%), Indian Bank (6.14%), Andhra Bank (1.1%), Central Bank (5.59%) and Axis Bank (2.23%). Sensex Descends 155 Points to Close at 38,667, Indiabulls Housing Finance Slumps Over 34 Per Cent.
Also, private financial firms and real estate firms like Indiabulls Housing (34.40%), Reliance Infra (12.28%), L&T Finance (8.40%), IRB Infra (6.42%) BigBloc Constructions (6.3%), among others followed the declining trend. Even auto giants like Tata (1.97%), Hero Motocorp (1.35%), Bajaj Auto (0.53%) and Maruti Suzuki (0.85%) remained at the bottom of the stock market charts.
However, the software firms were on a winning streak and climbed the stock ladders. Top gainers include HCL Technologies (3.85%), Infosys (3%), TCS (2.1%) and Tech Mahindra (1.45%). While Other gainer include Bharti Airtel (5.14%), IOC (1.85%), NTPC (0.45%), Nestle (0.48%) and Reliance (2.1%).
BSE Sensex closed at 38,667.33, with a decline of 155.24 points (0.4%). Showing a similar trend, Nifty put down the shutter down at 11.474, which a fall of 37.95 points (0.33%). The value of Indian Rupee too gained reached 70.79 against US dollar.