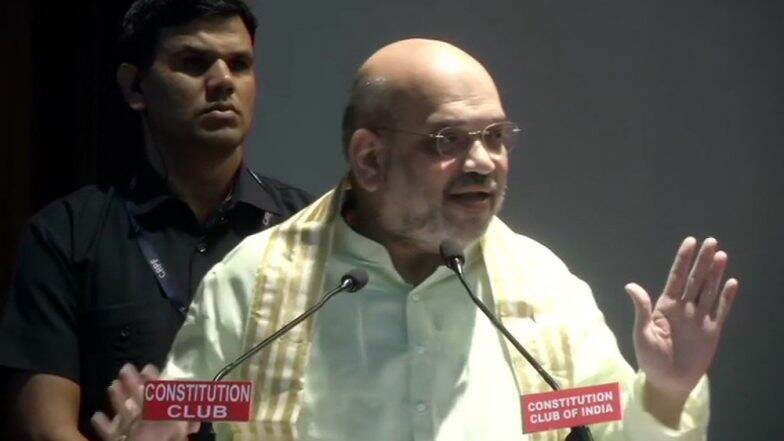 Guwahati, September 9: Union Home Minister Amit Shah on Monday indicated that the Bharatiya Janata Party (BJP) government at the Centre is planning to take stern action against illegal immigrants across the country like it did in Assam. He said that illegal immigrants should be expelled from other states also. In the final list of National Register of Citizens (NRC) over 19 lakh people living in Assam were declared illegal. Amit Shah, On 1st Visit to Assam Post NRC Final List, Assures Status Quo on Article 371.
"Assam thinks NRC was wrong, smaller states felt there would be a spill over. Let me assure, not only Assam, we want the entire country to be cleansed of illegal migrants. We already have a plan ready. We will bring all states into confidence," reported NDTV quoting Shah as saying. The Home Minister is currently on a two-day visit to the North-East. Shah today attended the North East Democratic Alliance (NEDA) meeting.
On September 8, Shah attended the 68th Plenary of the North East Council (NEC) at the Assam Administrative Staff College in Guwahati. During the event, he assured the heads of the Northeastern states that the status quo will remain on Article 371. Jammu and Kashmir Loses Privileges Under Article 370, Article 35A: What Does it Mean For Kashmiris and Other Indians?
Shah, while addressing the 68th Plenary Session of North Eastern Council, said Article 371 should not be compared to Article 370. He added that the government is committed to protect and uphold it, he added. "Article 371 of the Indian Constitution is a special provision. BJP government respects Article 371 and will not alter it in any way," the Home Minister said.
Shah's visit to Assam came almost a week after the final NRC list was published on August 31. Over 19 Lakh people were excluded from the list which drew flak from the opposition parties. According to reports, some BJP MLAs of Assam are also disappointed with the implementation of the NRC as 18 percent Bengali Hindus living in the state were also excluded.