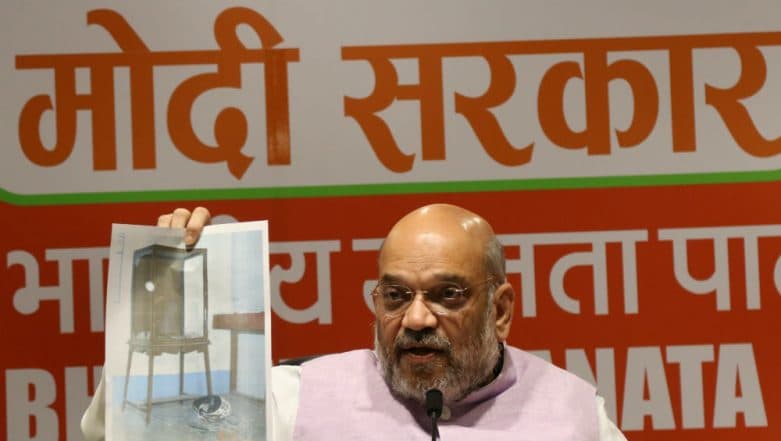 New Delhi, May 15: Bharatiya Janata Party (BJP) President Amit Shah on Wednesday blamed the Trinamool Congress (TMC) for violence that erupted during his roadshow in West Bengal on Tuesday. Amit Shah further claimed that TMC workers were also responsible for vandalising Ishwar Chandra Vidyasagar's statue. Shah also said he managed to escape during the violence thanks to the deployment of Central Reserve Police Force.
"Mamata Banerjee claims that the BJP is doing it. I want to tell her, we are fighting in every state in the nation, unlike you on 42 seats in West Bengal. Violence didn't take place anywhere but Bengal which proves that TMC is responsible for it," Shah told reporters at a press conference. The BJP chief added that Mamata Banerjee was venting out her frustration through violence because she has sensed her defeat. Tajinder Bagga Arrested by West Bengal Police Following Violence at Amit Shah's Kolkata Roadshow.
Narrating what happened during his roadshow, Shah said troopers of CRPF help him escape unhurt amid violence. "Had CRPF not been there, it would have been really difficult for me to escape. BJP workers were beaten up. TMC can go to any extent, it's with luck that I made it out," Shah said. Clashes broke out between BJP and TMC workers at two locations during Shah's roadshow.
Workers of TMC and BJP clashed with each other outside the gates of Calcutta University as soon as Shah's convoy passed from there. Both the parties broke the police barricade and started flinging chairs and guard-rails at each other. Moments later, another clash broke out between the two groups in front of the Vidyasagar College which spilled within the campus. Three two-wheelers were set afire in front of the college.
After allegedly being provoked by the Trinamool student's union member, BJP supporters threw stones, iron rods and ransacked the reception counters of the college. A statue of Iswarchandra Vidyasagar was allegedly vandalised by the saffron brigade. West Bengal Chief Minister Mamata Banerjee condemned the violence and accused the BJP of fomenting violence and said police should not have given permission for Shah's roadshow.