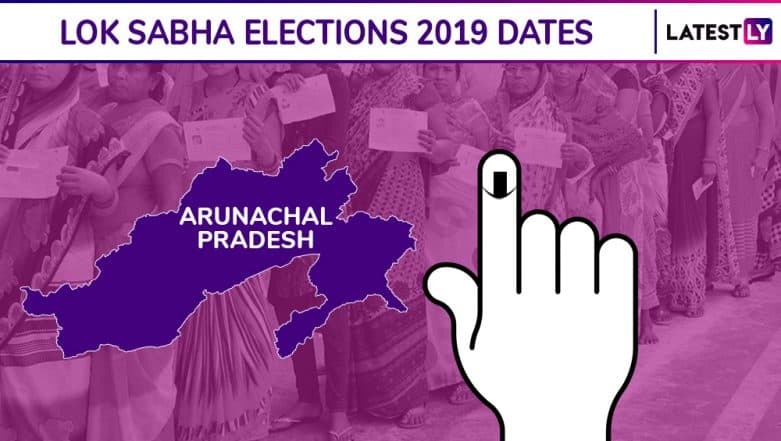 Itanagar, March 10: The constituency-wise dates of upcoming 17th Lok Sabha polls were announced by the Election Commission of India (ECI) on Sunday. In Arunachal Pradesh, which had suffered a political crisis in 2016, voting will be held in a single phase and take place on April 11.  The polling for the 543 seats of Lok Sabha will take place in 7 Phases and results will be declared May 23, 2019. Lok Sabha Elections 2019 Schedule Announcement by ECI Live News Updates.
Arunachal Pradesh had suffered a political crisis between April 2016 and December 2016. After the political crisis, the president's rule was imposed ending the tenure of CM Nabam Tuki. Later, Tuki was succeded by Pema Khandu as Congress CM who later joined People's Party of Arunachal with the majority of MLAs. Later, Khandu further joined BJP with most of the MLAs. 2019 Lok Sabha Election Results Predictions: National Approval Ratings Expects Hung Verdict With BJP-led NDA Winning 247 Seats, UPA 171.
Tweet by PIB:
#LokSabhaElections2019 schedule as announced by #ElectionCommission pic.twitter.com/KwQRwOlnBu

— PIB India (@PIB_India) March 10, 2019
Lok Sabha Elections 2019 Schedule And Dates: Voting In 7 Phases, Results On May 23 (Watch Video):
The major political parties in Arunachal Pradesh are Indian National Congress (INC) and Bharatiya Janata Party (BJP). In 2014 elections, Congress won 42 seats, BJP won 11 seats while People's Party of Arunachal (PPA). Congress' performance in the 2009 election was similar to the 2009 election, in which it won 42 seats.
This elections in the state are going to be interesting as some top Congress leaders had joined BJP. For instance, Former CM Geogang Apang has resigned from Congress and joined BJP. Meanwhile, In 2014, the election commission had announced the made on the first week of March. The polls were held between April 7. 2014 to May 12, 2014, in nine phases. The results of the elections were announced on May 16.