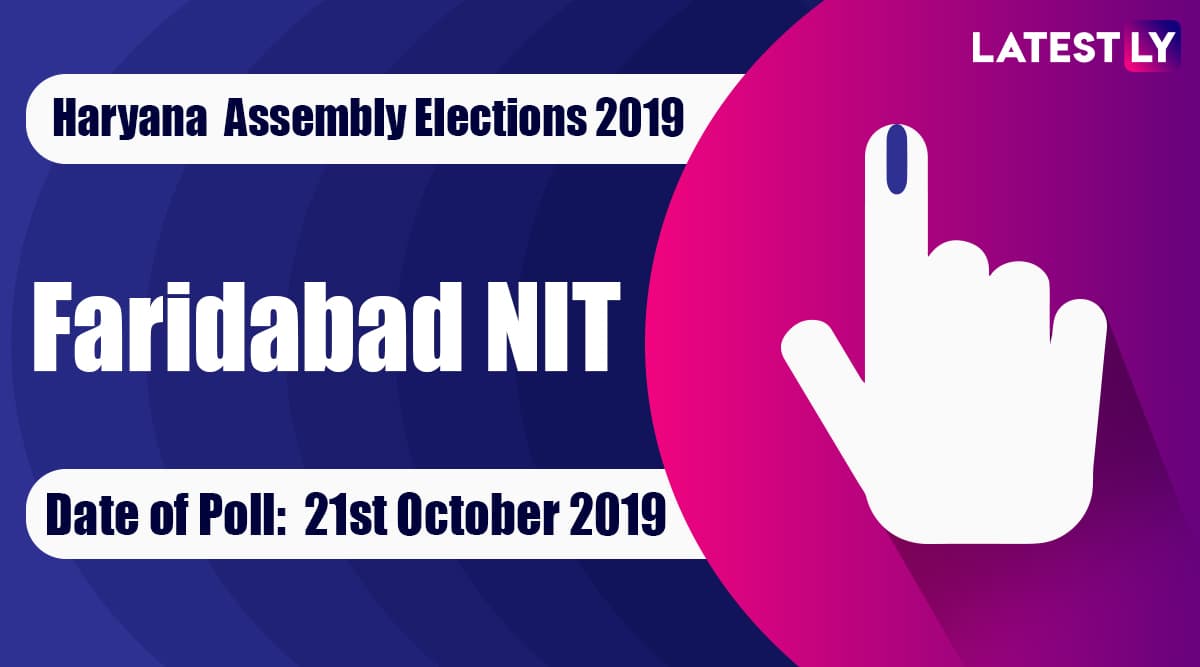 The Faridabad NIT Vidhan Sabha Constituency falls in the Faridabad district and Parliamentary constituency in Haryana. Neeraj Sharma of the Congress won the Faridabad NIT (New Industrial Township) seat in Haryana Assembly Elections 2019. The results were declared on Thursday, October 24. Sharma defeated Nagender Bhadana of the BJP by 3242 votes. NIT is known as the industrial hub of Haryana. The basic issues of Faridabad NIT include power outage, roads and infrastructure among others. Voting in Faridabad NIT for Haryana Assembly Elections 2019 took place on October 21. The counting of votes took place on October 24.
Nagender Bhadana, who was earlier with the INLD, had won the Haryana Assembly Elections 2014 from the Faridabad NIT seat, defeating Independent candidate Pandit Shiv Charan Lal Sharma. For the 2019 state Assembly polls, the INLD had fielded Jagjit Pannu against Neeraj Sharma of the Congress, Nagender Bhadana of the BJP and Santosh Kumar Yadav of the AAP among others. Haryana Assembly Elections Results 2019 Winners List: Names of Winning Candidates of BJP, Congress, INLD, JJP.
The Haryana Assembly polls came days after the BJP won a massive mandate in the Lok Sabha Elections 2019. The BJP managed a clean sweep in Haryana in the Parliamentary polls. However, the party could not keep up with its 75+ target in the state.
Meanwhile, Assembly polls also took place in Maharashtra simultaneously. Voting for both Haryana and Maharashtra Assembly polls took place on October 21. The results of polls in both states were announced on October 24.
| MLA Candidates | Party | Votes |
| --- | --- | --- |
| CHANDER BHATIA | IND | 6992 |
| NEERAJ SHARMA | INC | 61697 |
| NAGENDER BHADANA | BJP | 58455 |
| NANAK CHAND TALAN | IND | 406 |
| PRADEEP RANA | IND | 3928 |
| HARI RAM | IND | 357 |
| SANTOSH KUMAR YADAV | AAP | 3240 |
| DINESH RAI | IND | 233 |
| JITENDER KUMAR | IND | 209 |
| HAZI KARAMAT ALI | BSP | 17574 |
| JAGJIT PANNU | INLD | 1240 |
| VIRENDRA SINGH DANGWAL | Communist Party of India (Marxist) | NA |
| JAI PARKASH SINGH | Jai Maha Bharath Party | NA |
| TEJPAL | Jannayak Janta Party | NA |
| DESHRAJ SINGH RANA | Aapki Apni Adhikar Party | NA |
| MANOJ SHARMA | Akhil Bharat Hindu Mahasabha | NA |
| RAVINDER GUPTA | Samajwadi Party | NA |
| RAM PARTAP GAUR | Loktanter Suraksha Party | NA |