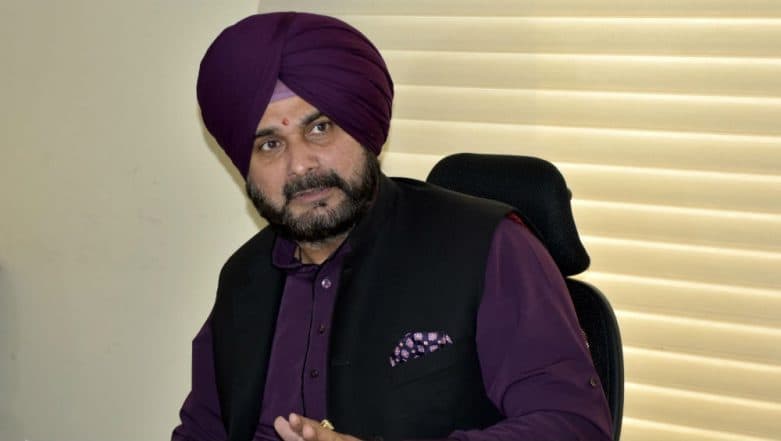 New Delhi, February 19: Navjot Singh Sidhu, who is facing criticism from the BJP and other political parties following his comment on Pakistan after the Pulwama terror attack, has now been advised by his own partyman and senior Congress leader Digvijaya Singh to counsel his "friend Imran bhai (Khan)" and make him understand. Digvijaya Singh said that Sidhu was getting abused because of Imran Khan and hence should make him understand this. Twitterati Demand to Boycott the Kapil Sharma Show After Navjot Singh Sidhu's Comment on the Recent Pulwama Terror Attack.
In a tweet, Digvijaya Singh wrote, "Navjot Singh Sidhu ji apne Dost Imran Bhai ko samjahiye," (Navjot Singh Sidhu ji please try and make you friend Imran bhai understand) in an apparent dig on Sidhu.
Read Digvijaya Singh's Tweet Below:
Navjot Singh Sidhu ji apne Dost Imran Bhai ko samjhaiye.

— digvijaya singh (@digvijaya_28) February 19, 2019
Sidhu has already been criticised in Punjab and across the country by the BJP and people in general for his comments after Pulwama terror attack.
Sidhu, when asked by a news agency if action should be taken against Pakistan had said that "terrorism has no religion and nation" and refused to criticise and held Pakistan responsible for the dastardly Pulwama terror attack. Congress Should Expel Navjot Singh Sidhu For Alleged Pro-Pakistan Stand on Pulwama Attack: Parkash Singh Badal.
On Monday, there was high drama in Punjab assembly after the Opposition Shiromani Akali Dal demanded the dismissal of Punjab minister Navjot Singh Sidhu for his "utterances" in the aftermath of the Pulwama attack. Akali leader Bikram Singh Majithia and Sidhu had a heated argument in the House when Majithia waved and displayed photos of Sidhu from his Pakistan visit which irked Sidhu.