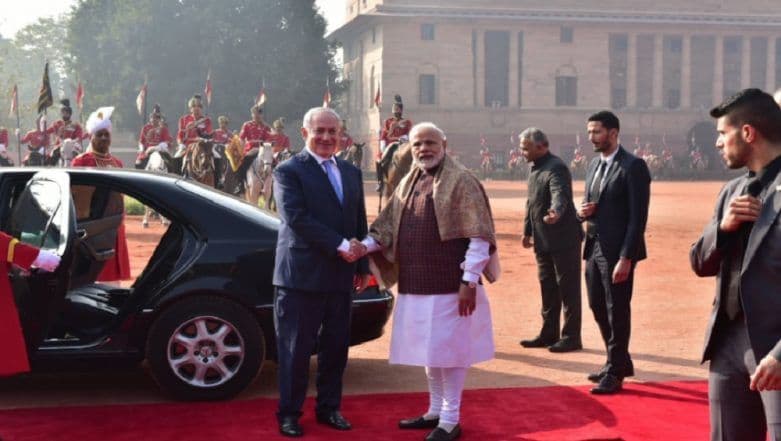 New Delhi, Jan 15: Visiting Israeli Prime Minister Benjamin Netanyahu praised the leadership of his Indian counterpart Narendra Modi, crediting him for taking India to the future. Describing Modi as a "revolutionary leader", Netanyahu said decisions taken by his regime has "revolutionised India".
The remarks of Netanyahu came on Monday, the second day of his six-day visit to India. The Israeli PM signed a total of nine MoUs with Modi, after delegation-level talks between the two sides.
"You are a revolutionary leader. You have revolutionised India and catapulting this state to the future. Your visit to Israel was ground breaking as it was the first time an Indian leader visited," Netanyahu said while addressing the press.
Modi reciprocated the praises on Netanyahu, saying 'Bibi' is equally committed towards "benefitting his people".
"An open secret is that I know you are (impatient) too, to do more for your people and quickly," Modi was reported as saying.
On terrorism, Netanyahu and Modi stressed on drawing common strategies and goals. Both Israel and India are under attack from "extremist forces" due to their "resilient democracies", Netanyahu added.
The Israeli PM also praised the "people of India" for resisting the anti-Semitism sentiment. "The way India has treated the Jews reflects its level of tolerance," he said.
Netanyahu, who is currently in Delhi, is scheduled to visit Agra, Gujarat and Mumbai before concluding his tour. PM Modi will accompany him on most part of the visit.