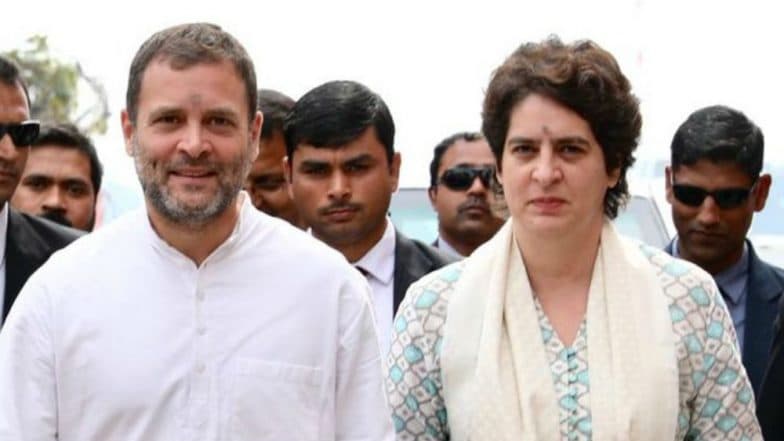 Lucknow, February 22: Congress general secretary Priyanka Gandhi Vadra is taking business seriously. Days after her formal entry into politics, Priyanka Gandhi has started taking efforts to revive the Congress in eastern Uttar Pradesh. She formed a team but was reportedly unhappy with one of the members. On Wednesday, her brother and Congress President Rahul Gandhi sacked that member.
Kumar Ashish was appointed on Tuesday as a Congress secretary attached to Priyanka Gandhi, party in-charge of eastern UP. However, a day later, Rahul Gandhi replaced him with Sachin Naik. Though no reason was cited for Ashish's sacking by the Congress, according to reports, Priyanka Gandhi was unhappy when she was informed about his blotted past. 'Can't Create Miracle Alone' Says Priyanka Gandhi After Meeting Party Workers of Bundelkhand.
As a youth Congress leader in 2005, Ashish had been booked by the Patna police for alleged involvement in the Bihar board examination papers leak. Even then, he had been sacked by the party. "When this information reached Priyanka Gandhi, she asked for his replacement and Congress President Rahul Gandhi accepted her request and replaced him with Sachin Naik," sources told to this channel.
As part of efforts to ramp up the party organisation in Uttar Pradesh ahead of Lok Sabha elections, Rahul Gandhi had on Tuesday replaced AICC secretaries Prakash Joshi and Naseeb Singh with six new faces to assist party general secretaries Priyanka Gandhi Vadra and Jyotiraditya Scindia. A party release said Zubair Khan, Kumar Ashish and Bajirao Khade would be party secretaries attached to Priyanka Gandhi.
Rana Goswami, Dhiraj Gurjar and Rohit Chaudhary were appointed secretaries attached to Scindia, in-charge of western UP. Priyanka Gandhi and Scindia were appointed General Secretaries last month. Both held marathon 12-hour meeting with party workers last week in Lucknow.