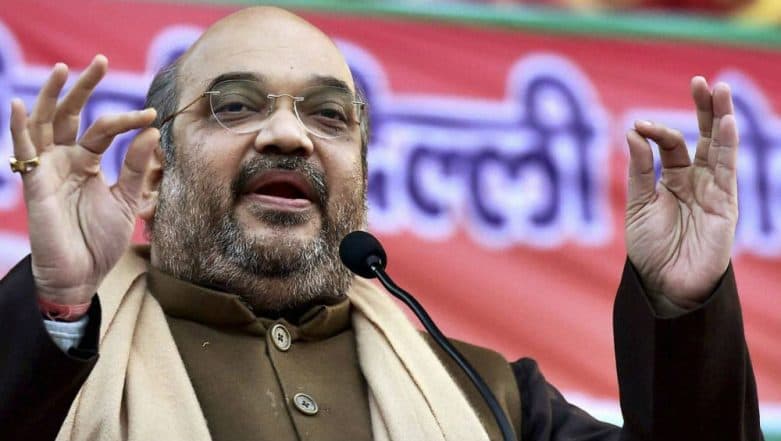 New Delhi, January 11: In his opening address at the two-day Bharatiya Janata Party national conclave, BJP president Amit Shah said a grand Ram Mandir in Ayodhya is on top of party's agenda. He shifted the onus on the Congress for the unprecedented delay in the Ayodhya conflict's resolution, claiming that its leaders are creating obstacles before the Supreme Court.
"BJP wants Ram Mandir to be constructed at the earliest. We are trying in the Supreme Court that the case reaches its conclusion but Congress here also is trying to create obstacles," Shah said. PM Modi Says Ordinance For Ram Mandir 'Only After Legal Process'.
Over 10,000 BJP national council members have arrived in the national capital for a two-day conclave, where the party is expected to brainstorm their rout in the recent assembly elections, along with the strategy to be enacted in the run-up to the 2019 Lok Sabha elections.
Appealing the BJP cadres to leave no stone unturned to win the upcoming polls, Shah said it's outcome will be decisive to shape the future of the nation.
"2019 will be a decisive contest, similar to the third Battle of Panipat. The Marathas that had won 131 battles lost one decisive battle which led to 200 years of colonial slavery," Shah said, referring to the 18th century battle in Panipat when the British forces had defeated the Maratha empire.
The BJP chief also struck back to the "chowkidar chor hai" jibe being used by Congress president Rahul Gandhi to target Prime Minister Narendra Modi. "I want to assure the people of this country that this Chowkidar will not spare any thief," he said.