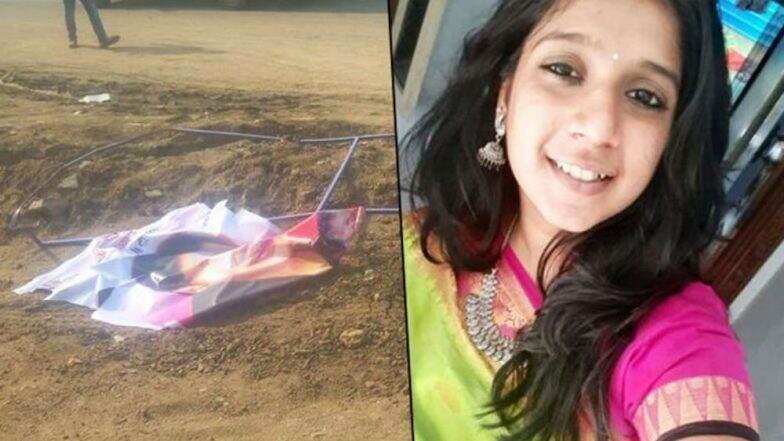 Chennai, September 25: The Madras High Court on Wednesday came down heavily on the Chennai Police for not arresting AIADMK worker C Jayagopal 13 days after the death of a techie who fell off her two-wheeler after being struck by a banner of the ruling party and was run over. Hearing a petition filed by Traffic Ramaswamy against illegal flex boards, the Madras High Court asked: "if the prime accused is still in a safe haven". After AIADMK Banner Led to Techie's Death, Stalin Warns DMK Cadre Against Putting Up Hoardings.
The High Court asked the Chennai Police when the accused will be arrested as it has been more than 13 days have passed after the accident, News18 reported. The court also observed that the Dravida Munnetra Kazhagam (DMK) is the only party which filed an affidavit against illegal political hoardings. Why no other party has done it, the court asked. AIADMK worker Jayagopal has been absconding since the incident. Subashree Road Accident: Pay Rs 5 Lakh Compensation to Deceased Chennai Techie's Family, Madras High Court Orders Tamil Nadu Govt.
Jayagopal was booked after a complaint was filed by an assistant engineer of the Chennai civic body under Section 4 of The Tamil Nadu Open Places (Prevention of Disfigurement) Act, 1959, for installing the hoarding without permission. If found guilty, Jayagopal will be jailed for just one year. Earlier, the Madras High Court rapped the state government over the incident. "It's is bureaucratic apathy. Sorry, we have lost faith in the government," the court had said.
Subashree, a software engineer, was on her way home when the banner knocked her down. At the same time, a tanker comes from behind and hits her scooter, injuring Subashree on the head. Subashree was rushed to a hospital where doctors declared her dead. According to eye-witnesses, the techie was wearing a helmet when the mishap happened. The driver of the tanker involved in the accident has been arrested.
Chennai's civic body also sealed the press that allegedly printed the hoarding. The illegal banner had the images of Tamil Nadu Chief Minister K Palaniswami, Panneerselvam, late Chief Minister J Jayalalithaa and others.