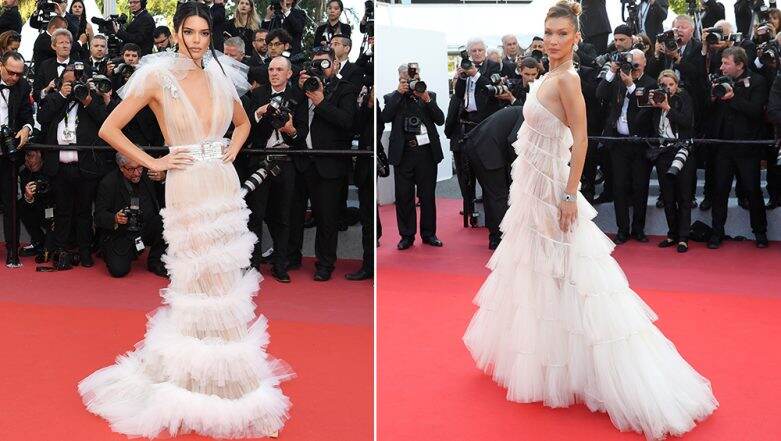 There has never been a point when Bella Hadid has disappointed us at the red carpet. 2019 Cannes that began on Tuesday 14 May and will continue till Sat 25 May has its temperature soaring by all the hot beauties walking down the red carpet and just yesterday Bella Hadid took over the Cannes 2019 red carpet and turned into her own angel's paradise that one could only dream of. Bella Hadid slid in a frilled, sheer, strapless white gown by Dior Haute Couture and showed the fam what perfection looks like. She breathtaking walked on the prestigious red carpet at the premiere of the Elton John biopic, Rocketman. Her whole look consisted of elegant jewellery that screamed luxury. Her spirally tiered tulle dress was complimented with gorgeous diamond drop earrings and intricate cuff bracelet flaunting priceless sapphire, diamonds and emeralds. With her hair swept up in a bun, the diva completed her look with gleaming makeup in gold. She looked fine in nude pink lips and an on-point contour that enhanced her sharp cheekbones.
Take a look at Bella Hadid's Cannes 2019 look:
View this post on Instagram
However, while she looked all kinds of beautiful, her look quite reminded us of Kendall Jenner's Cannes appearance last year, 2018. The very naked sheer dress she wore last year looked similar except it had straps. Kendall appeared at the premiere of Girls of The Sun is the similar princess gown with gorgeous tulle details.
Take a look at Kendall Jenner's 2018 Cannes red carpet outfit:
View this post on Instagram
Hadid's look for Dior's dinner party in Cannes was also quite loved. She wore a tan skirt and a sheer crop top.