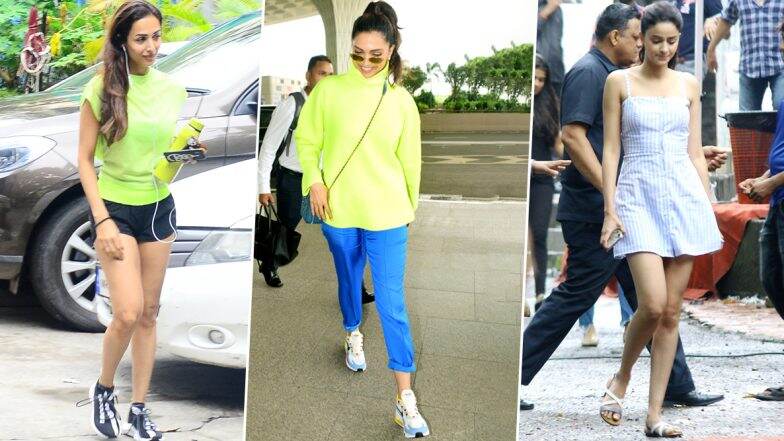 We're back with another week of judging Bollywood celebrities' clothing choices over the weekend. Let's give them all a benefit of doubt and say it's the monsoon that's affecting their sense of style. Maybe they need stylists, maybe it's monsoon restrictions. While Alia Bhatt served some seriously elegant and gorgeous looks in a light blue traditional dress, Disha Patani makes us want to buy her something other than athleisure wear. Girl, how are we supposed to distinguish your looks if we see you in the same old gym shorts every day? Best and Worst Dressed Celebs over the Weekend: Malaika Arora Continues Schooling Every Celeb, While Kareena Kapoor Bids Farewell to Fashion Sense.
Deepika Padukone attended the TILL foundation event wearing an all-white attire, making her red lipstick the pop of colour. While that was plain and laid back, her airport look was at the opposite pole. She went for neon colours from top to bottom. The Ranveer effect? Speaking of neon, Malaika Arora and Sara Ali Khan sported some of the cutest neon outfits for their workout. They both paired the neon with black and made it look as subtle as neon can get. Ananya Pandey maintained her cute girl-chic image with a dress that screams her name! And Sharmila Tagora swept us all away with her timeless grace. Best And Worst Dressed Over The Weekend: Ananya Pandey, Tara Sutaria, Shanaya Kapoor - The Young Brigade Sure Got Their Style Game On Point!
Best
Sharmila Tagore
View this post on Instagram
Malaika Arora
View this post on Instagram
Ananya Pandey
View this post on Instagram
Sara Ali Khan
View this post on Instagram
Worst Dressed
Disha Patani
View this post on Instagram
Jahnvi Kapoor
View this post on Instagram
Deepika Padukone
View this post on Instagram
Shraddha Kapoor
View this post on Instagram
That's all for this weekend, folks! Tune back in next week to see who changed sides and moved to the other team.