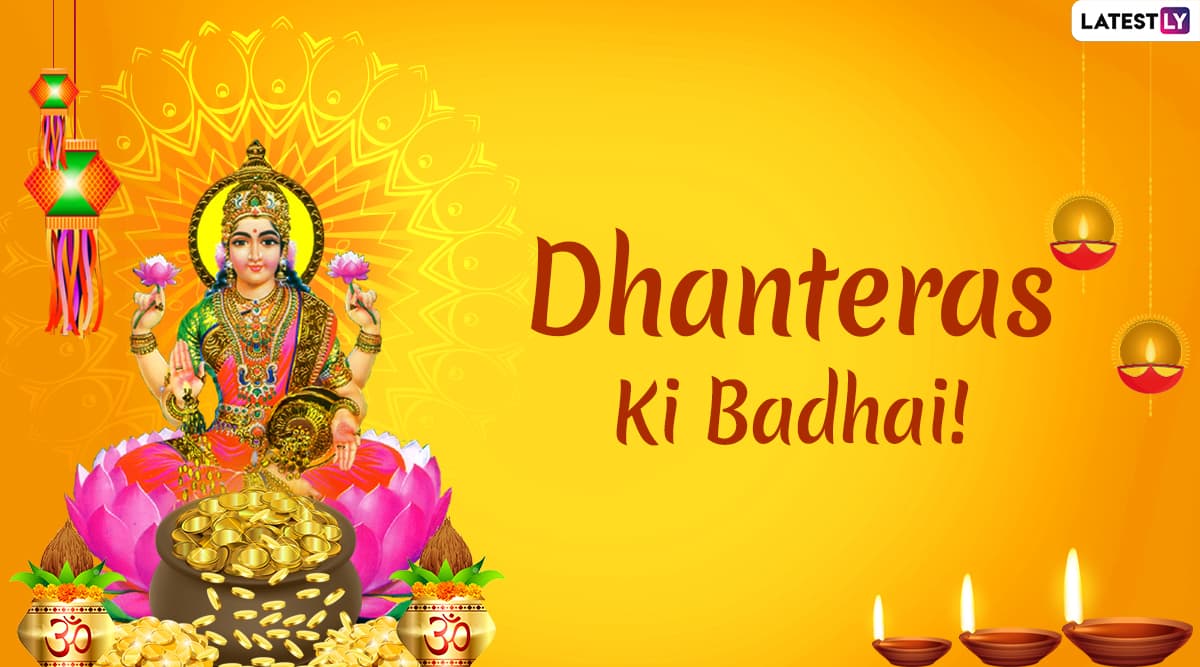 Dhanteras 2019 will be celebrated on October 25 and the day marks the five-day festival of Diwali also known as Deepavali. The festival of Dhanteras is also known as Dhantrayodashi. The devotees worship Goddess Lakshmi and Lord Kuber – the Gods of wealth – for a successful life, health, wealth, and prosperity. It is considered lucky to buy ornaments of gold and silver, utensils and other homely items as well. It's time to get our hands on Dhanteras 2019 wishes, Dhantrayodashi images, Dhanteras messages in Hindi, Dhanteras greetings and SMS. And for those who love to share lovely Dhanteras 2019 wishes with their family and friends, we bring you a collection of Happy Dhanteras 2019 greetings, Happy Dhanteras messages in Hindi, Dhanteras images in HD, Dhantrayodashi wallpapers and more. Dhanteras Images & Diwali HD Wallpapers for Free Download Online: Wish Happy Dhantrayodashi 2019 With Beautiful WhatsApp Stickers and GIF Greetings.
Diwali 2019 will be celebrated on October 27, i.e. Sunday. However, there are a lot of festivals that people celebrate which prelude the grand Indian festival. One such is festival Dhanteras. The festival marks the beginning of the 5-day festive week of Diwali. It is the first of the many festivals that are celebrated in the festive season of Diwali, also fondly known as Deepawali. Dhanteras is a festival of wealth, health, and prosperity and is mainly celebrated by the people of the Hindu religion.
People of many communities celebrate the festival of Dhanteras. Hence, the Dhanteras festival is celebrated by people speaking different languages, especially Hindi. People send across wishes and greetings in the Hindi language to their friends, family, and loved ones on this auspicious day. They send messages on WhatsApp and Messenger, set statuses on Facebook and other social media platforms to wish people luck on the auspicious occasion of Dhanteras. Also, Dhanteras 2019 SMSes, picture messages, GIFs, and greeting cards are still in trend. It is always nice to send a token of love to your known ones on such festive days, be it on Facebook, WhatsApp, Instagram, Hike or other platforms.
If you are searching for 2019 Dhanteras WhatsApp messages in Hindi, Facebook statuses in Hindi, or text messages in the Hindi language to send across to your family, friends, and relatives – well, your search should end here. Here, we bring you the latest messages and picture messages that you can use to wish your loved ones, delighting them on the occasion of Dhanteras 2019, which is also called Dhantrayodashi.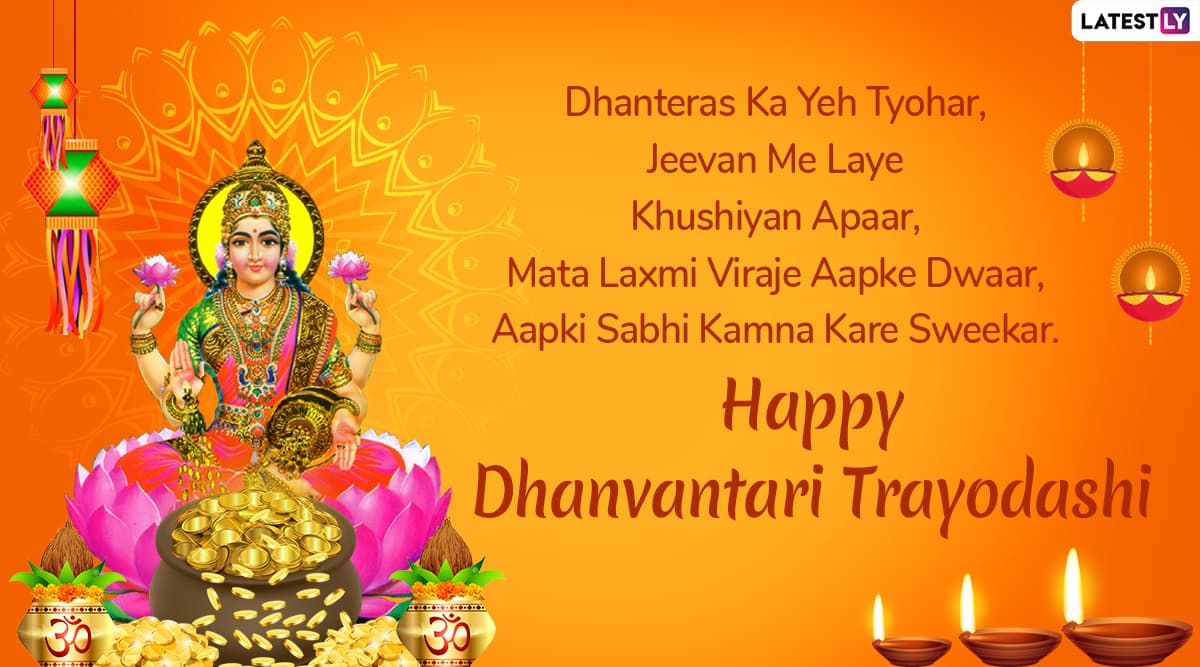 WhatsApp Message Reads: Dhanteras Ka Yeh Tyohar, Jeevan Me Laye Khushiyan Apaar, Mata Laxmi Viraje Aapke Dwaar, Aapki Sabhi Kamna Kare Sweekar. Happy Dhanvantari Trayodashi.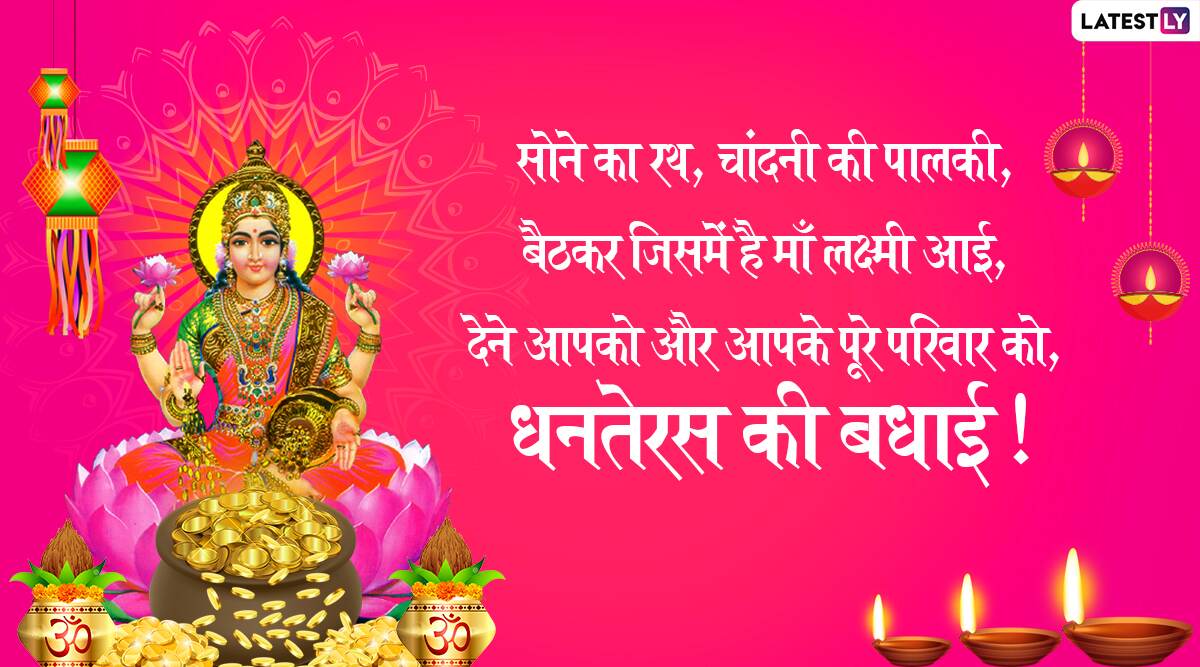 WhatsApp Message Reads: सोने का रथ, चांदनी की पालकी, बैठकर जिसमें है माँ लक्ष्मी आई, देने आपको और आपके पूरे परिवार को, धनतेरस की बधाई!
WhatsApp Message Reads: Dhan Dhanya Bhari He Dhanteras, Dhanteras Ka Din Hai Bada Hi Mubarak, Mata Laxmi He Ye Din Ki Sanchalak, Chalo Milkar Kare Puja Unki Kyu Ke Laxmiji Hi to He Jivan Ki Udhharak. Happy Dhanvantari Trayodashi.
WhatsApp Message Reads: Sone Ka Rath, Chandi Ki Palki, Baith Kar Jis Mein Hain Maa Lakshmi Aayi, Dene Aapko Aur Aapke Poore Parivar Ko, Dhanteras Ki Badhai!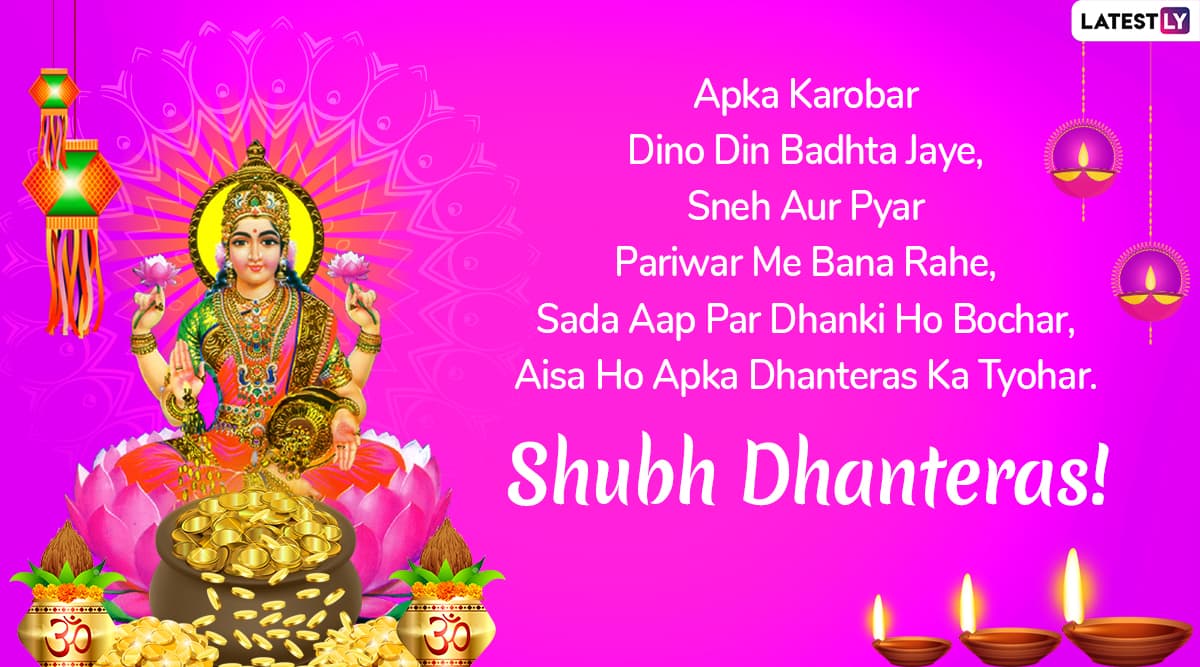 WhatsApp Message Reads: Apka Karobar Dino Din Badhta Jaye, Sneh Aur Pyar Pariwar Me Bana Rahe, Sada Aap Par Dhanki Ho Bochar, Aisa Ho Apka Dhanteras Ka Tyohar. Shubh Dhanteras!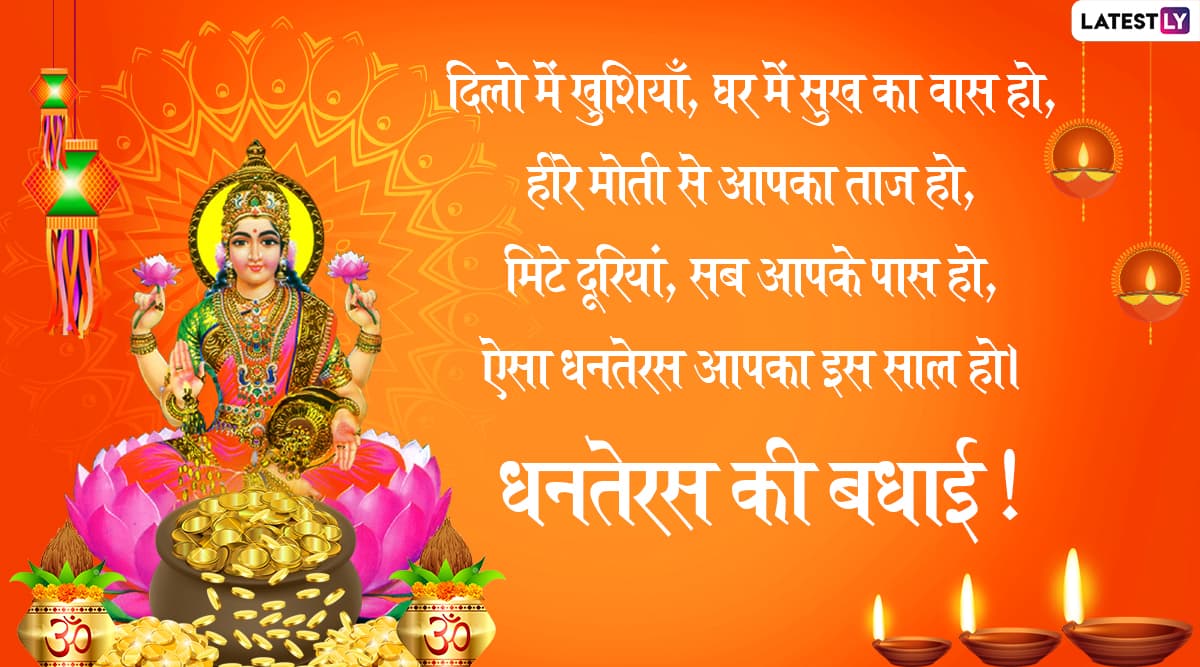 WhatsApp Message Reads: दिलो में खुशियाँ, घर में सुख का वास हो, हीरे मोती से आपका ताज हो, मिटे दूरियां, सब आपके पास हो, ऐसा धनतेरस आपका इस साल हो।
Happy Dhanteras 2019 Images & Diwali Wishes in Advance: WhatsApp Messages, SMS, Quotes & Greetings
The festival of Dhanteras is only a few days, and people's preparations for the auspicious festival are in full swing. People buy new clothes, clean their homes, decorate their houses with fancy lightings and flowers, and earthen lamps are shopped in abundance. There's a lot to know – puja timings, significance, story and much more – when it comes to Dhanteras. You can know all about Dhanteras by clicking here. We, at LatestLY, wish you a very healthy, wealthy, and a prosperous Happy Dhanteras!