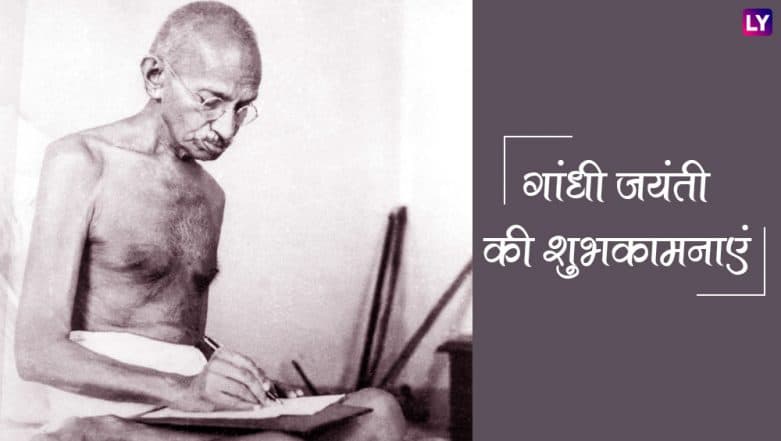 Gandhi Jayanti is celebrated every year on October 2, marking the birthday of Mohandas Karamchand Gandhi. Fondly known as Bapu, he led the freedom struggle against British inspiring millions to take up the movement. Mohandas Karamchand Gandhi was born on October 2, 1869, in Porbandar, Gujarat. Various events and functions remembering works of Mahatma Gandhi are held at many places in the country.
People greet each other 'Happy Gandhi Jayanti' on this day. We have compiled a list of Greetings, HD Photos, WhatsApp messages, Facebook status, Hindi SMS, GIF Images that you can send your friends and family. Gandhiji married Kasturba Gandhi at the age of 13 and went to study law at the University College in London. In 1916 he returned to India and started his non-violent resistance to the British government in India. Gandhi Jayanti 2018 Wishes: Best WhatsApp Messages, GIF Images, Facebook Status to Send Greetings on October 2, International Day of Non-Violence
For his contributions to the freedom struggle through satyagraha and non-violent means, Gandhi is known as the Father of the Nation. October 2 is also known as International Day of non-violence worldwide. The United Nations General Assembly established October 2 as the International Day of Non-Violence in 2007. He was assassinated by Nathuram Godse on January 30, 1948, at the age of 78. Prayer meets at held at Raj Ghat in New Delhi every year on this day. Mahatma Gandhi Jayanti 2018: Importance and Significance of Celebrating The Birthday of Father of The Nation
Here is the list of Hindi Gandhi Jayanti messages: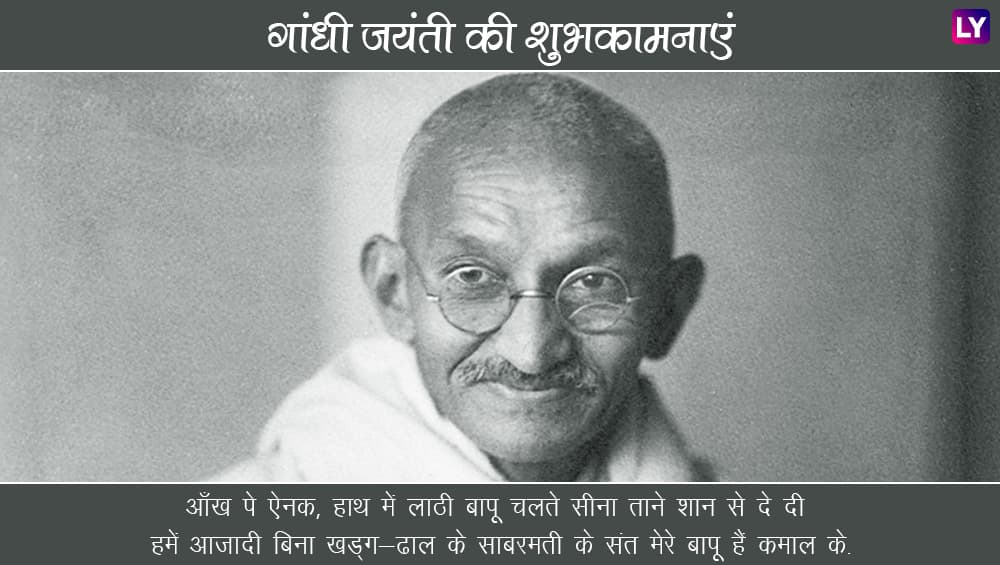 Aankh pe ainak, haadh mei lathi bapu chalte seena tane shaan se de dhi hume aazadi bina khadag dhal ke Sabarmati ke sant mere bapu hai kamal ke.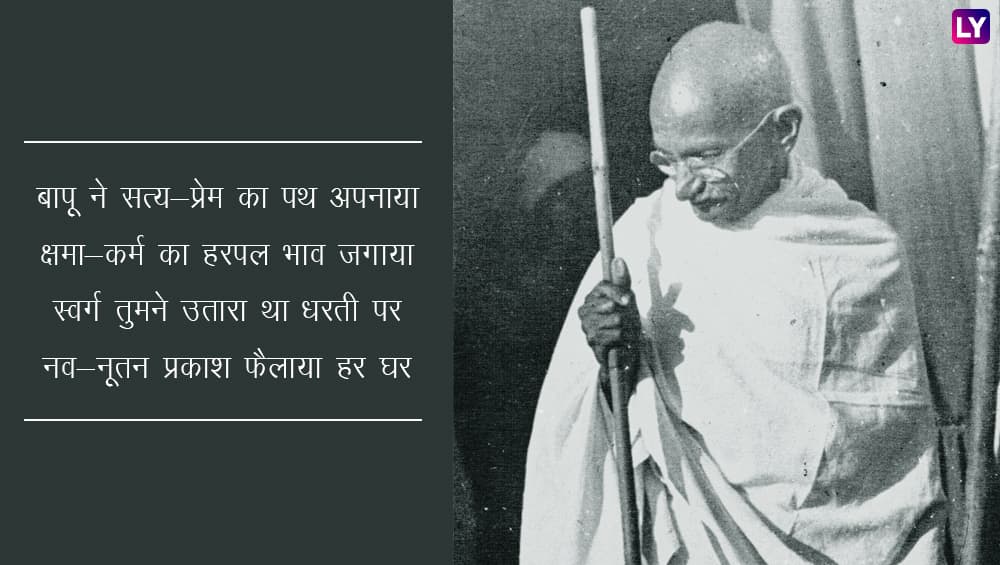 Bapu ne satya prem ka padh apnaya, shama karm ka harpal bhav jagaya, swarg tumne utara ta dharti par, nav nutan prakash failaya har ghar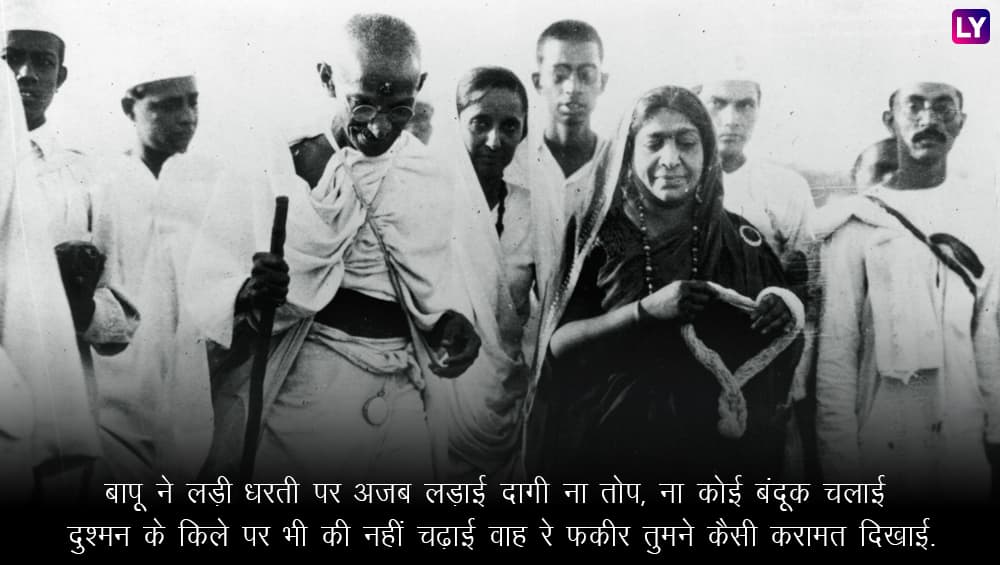 Bapu ne ladi dharti par ajab ladhai dhagi na thop, na koyi bandhook chalayi dhushman ke kile par bhi ki nahi badhai waah re fakeer tumne kaise kramat dhikhayi.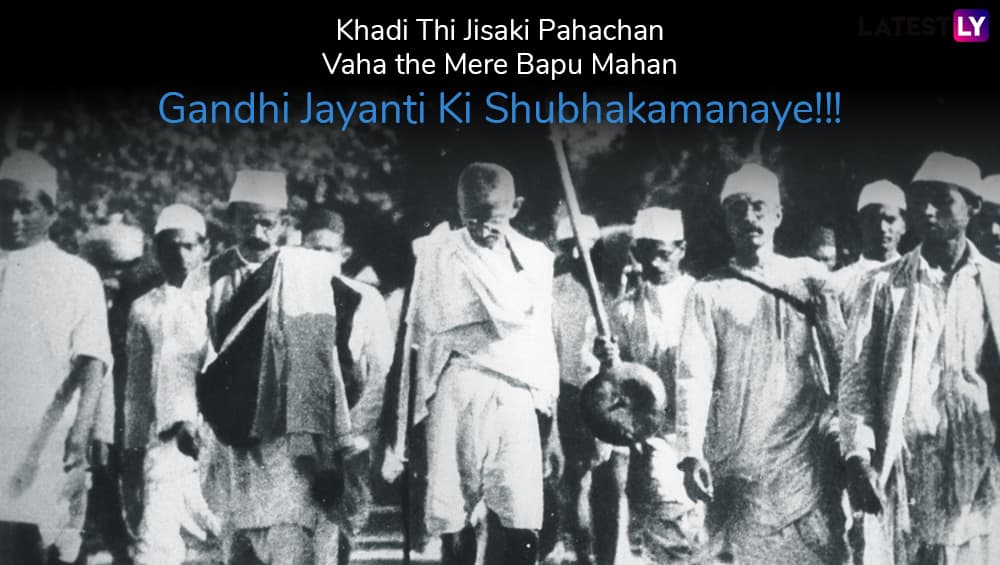 Khadi Thi Jisaki Pahachan, Vaha the Mere Bapu Mahan, Gandhi Jayanti Ki Shubhakamanaye!!!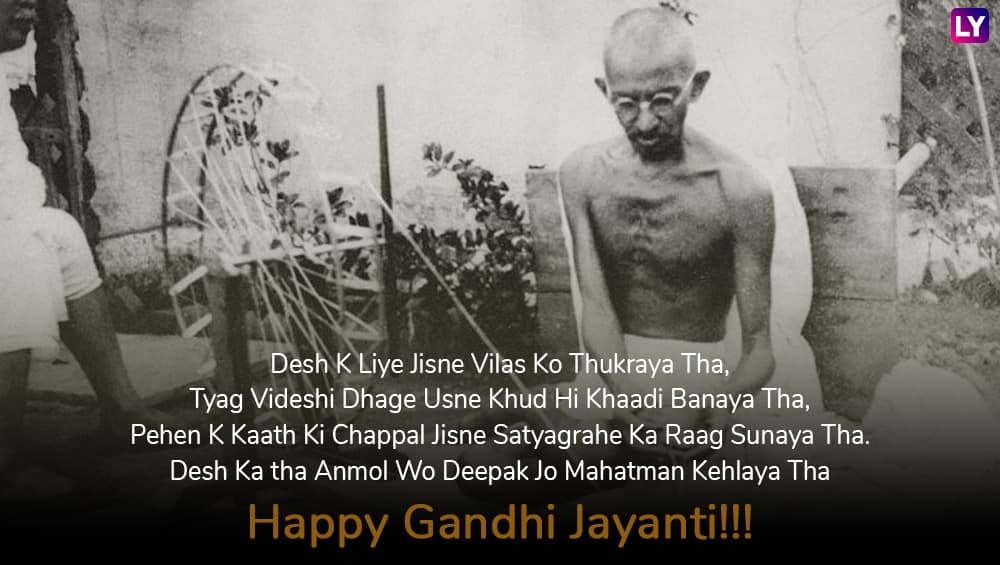 Desh K Liye Jisne Vilas Ko Thukraya Tha,
Tyag Videshi Dhage Usne Khud Hi Khaadi Banaya Tha,
Pehen K Kaath Ki Chappal Jisne Satyagrahe Ka Raag Sunaya Tha.
Desh Ka tha Anmol Wo Deepak Jo Mahatman Kehlaya Tha
Happy Gandhi Jayanti!!! Gandhi Jayanti 2018 Speeches in English and Hindi: Watch Videos of Inspiring Speeches to Deliver on Bapu's 150th Birth Anniversary on 2nd October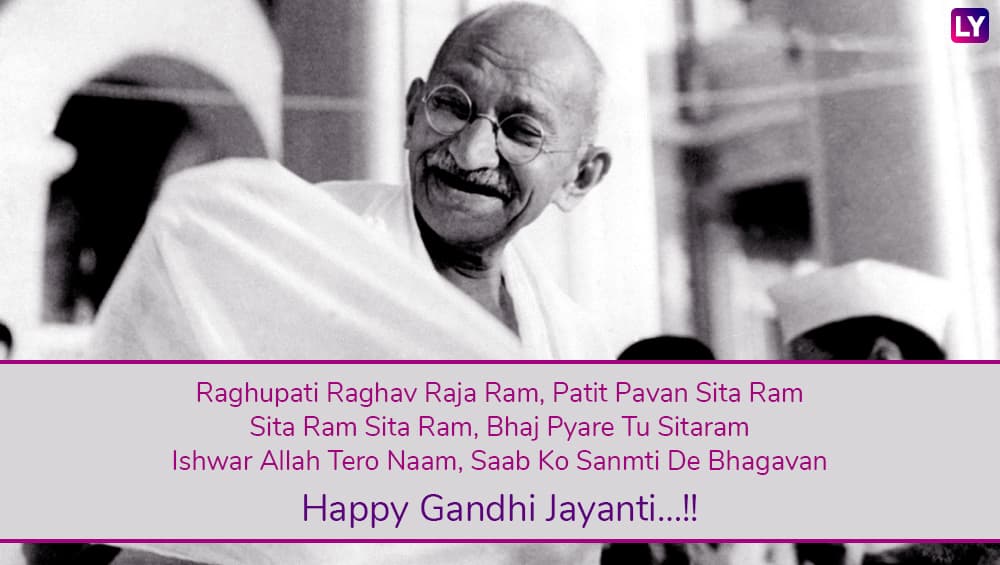 Raghupati Raghav Raja Ram, Patit Pavan Sita Ram
Sita Ram Sita Ram, Bhaj Pyare Tu Sitaram
Ishwar Allah Tero Naam, Saab Ko Sanmti De Bhagavan
Happy Gandhi Jayanti…!!
Initiatives by Gandhi that triggered mass movement include Non-Cooperation Movement, Civil Disobedience Movement and Quit India Movement. On the birth anniversary of Mahatma Gandhi, Netherlands is set to witness six events in four cities marking the launch of the two-year-long Gandhi Jayanti celebrations. The Netherlands has a special connection with India. In the country, around thirty streets are named after Mahatma Gandhi which is perhaps the largest after India anywhere in the world.