If we are searching for Mahaparinirvan Diwas 2019 Images, Marathi status, HD wallpapers For free download online, you will find it below. Dr Bhim Rao Ambedkar (BR Ambedkar), popularly known as Baba Saheb Ambedkar remains one of the most influential figures in the Indian history. Be it his birth, death anniversaries or Dhammachakra Pravartan Din days associated with the 'Father of Indian Constitution' hold a significant place in people's lives. The country observes Mahaparinirvan Diwas on BR Ambedkar's death anniversary every year on December 6. This year, India will be celebrating Mahaparinirvan Diwas 2019 on account of his 63rd death anniversary. On the day, followers of Ambedkar's teachings, remember the noble man through his great quotes. They also share Mahaparinirvan Diwas images, keep Mahaparinirvan Diwas status on WhatsApp, greetings, wishes, HD wallpapers, Dr BR Ambedkar photos, quotes on Buddhism, Mahaparinirvan Diwas WhatsApp Stickers, GIFs, and a lot more. You will find a collection of wishes, images, quotes, greetings, messages and stickers to celebrate Mahaparinirvan Diwas 2019. Mahaparinirvan Diwas 2019 Wishes & Images: WhatsApp Stickers, Facebook Greetings, Messages and SMS to Send on BR Ambedkar's 63rd Death Anniversary.
In Buddhism, parinirvana is commonly used to refer to nirvana-after-death. It occurs upon the death of someone who has attained nirvana during his or her lifetime. It implies a release from the Saṃsāra, karma and rebirth as well as the dissolution of the skandhas. Dr Ambedkar, who along with nearly 6,00,000 followers, gave up Hinduism and embraced Buddhism on the occasion of Ashoka Vijayadashami on October 14, 1956, at Deekshabhoomi. The day is remembered and celebrated as Dhammachakra Pravartan Din. And a bed-ridden Dr Ambedkar three days after drafting The Buddha and His Dhamma, a treatise on Buddha's life and Buddhism passed away in his sleep on December 6, 1956. He was 65. BR Ambedkar 63rd Death Anniversary: Mahaparinirvan Diwas 2019 Date, History and Significance of The Day to Remember The Father of Indian Constitution!
Babasaheb Ambedkar's death anniversary is celebrated as an important event by his followers. They remember the great scholar by garlanding his photos, chanting slogans, spreading his teachings on equality and humanity. People in large numbers visit Chaitya Bhoomi, resting place of BR Ambedkar. The day is no less than a festival for his followers as they celebrate his presence via his thoughts and beliefs. And like it happens during a festival or an important day, Mahaparinirvan Diwas too witnesses a number of greetings and messages exchanged among people. It is no surprise search engine sites are flooded with keywords like Mahaparinirvan Diwas meaning, Mahaparinirvan Diwas images, Mahaparinirvan Diwas status, Mahaparinirvan Diwas 2019, Mahaparinirvan Diwas quotes, Mahaparinirvan Diwas in Marathi, Mahaparinirvan Diwas in Hindi, Mahaparinirvan Diwas Speech in Marathi, महापरिनिर्वाण दिवस इमेज, Dr BR Ambedkar quotes, BR Ambedkar images, BR Ambedkar death anniversary 2019, BR Ambedkar photos and more.
WhatsApp Message Reads: Mahaparinirvan Diwas Ke Pavan Avsar Par Sabhi Logon Ko Hardik Shubhkamnaye. Jai Bhim. Baba Ambedkar Ki Jai!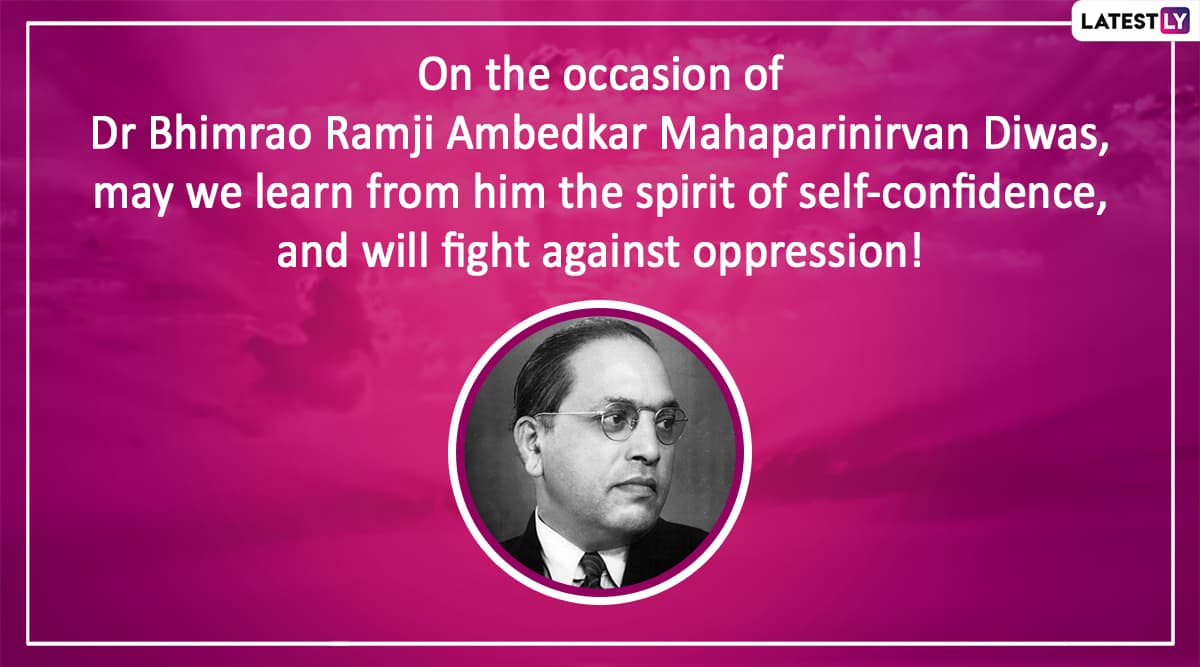 WhatsApp Message Reads: On the Occasion of Dr Bhimrao Ramji Ambedkar Mahaparinirvan Diwas, May We Learn From Him the Spirit of Self-Confidence, and Will Fight Against Oppression!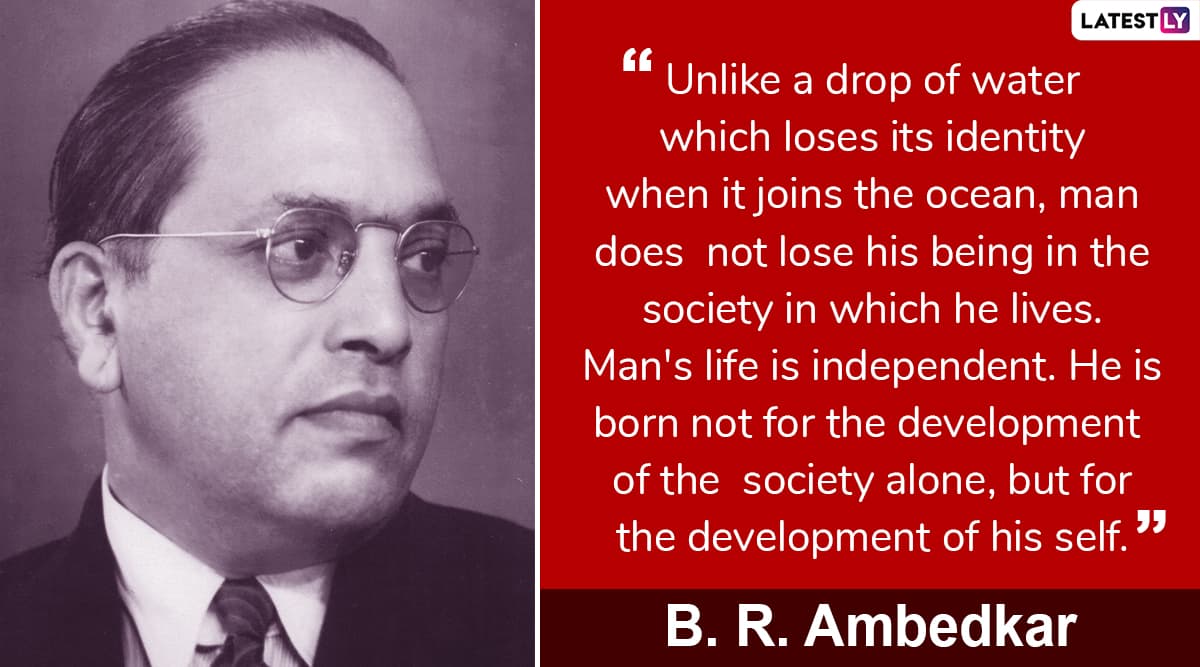 WhatsApp Message Reads: Unlike a Drop of Water Which Loses Its Identity When It Joins the Ocean, Man Does Not Lose His Being in the Society in Which He Lives.
WhatsApp Message Reads: Remembering The Father of Indian Constitution On His 63rd Death Anniversary. Happy Mahaparinirvan Diwas 2019.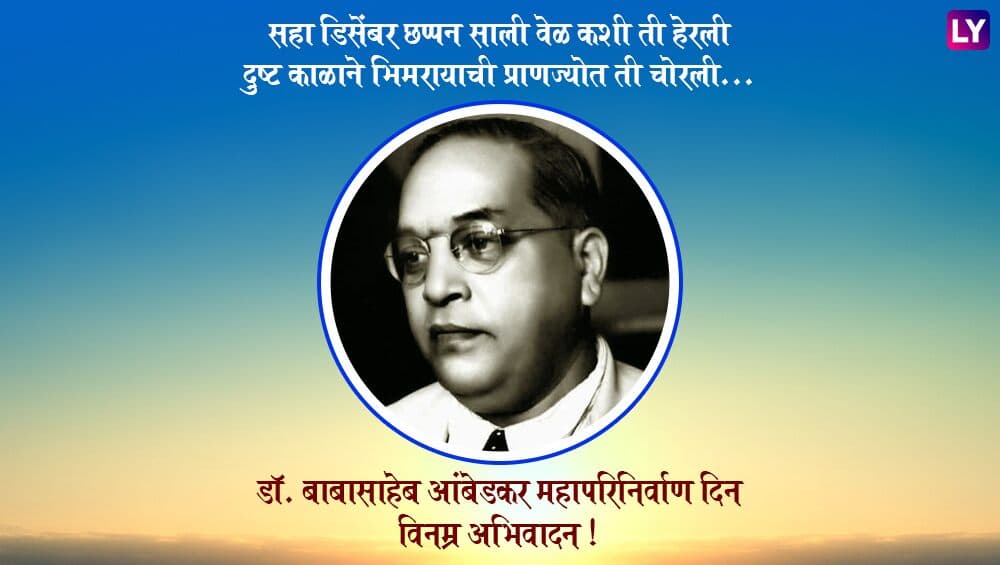 As already mentioned about the huge gathering at the Chaitya Bhoomi, the Central Railway (CR) has announced operating additional trains to manage the extra rush of passengers travelling on Friday on the occasion of Dr BR Ambedkar's death anniversary, observed as Mahaparinirvan Diwas by his followers. "CR will operate 14 special long-distance trains and 12 special locals to manage the extra rush of Dr BR Ambedkar's followers, visiting Chaitya Bhoomi in Dadar on his death anniversary," Shivaji Sutar, chief public relations officer (CPRO) of CR was quoted saying. We wish everyone on to remember and imbibe his great teachings this Mahaparinirvan Diwas 2019.