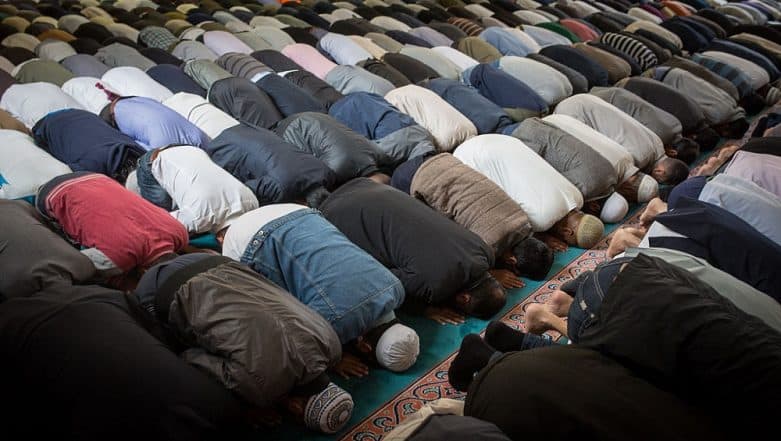 New Delhi, May 6: The holy month of Ramzan or Ramadan began in India with the culmination of Shaban month this evening. The moon remained invisible in most parts of India, however, Chand (moon) was sighted in Uttar Pradesh's Lucknow and Maharashtra's Mumbai. Muslims will observe fast from sunup to sundown every day from tomorrow onwards for almost a month. To celebrate the beginning of Ramzan, Muslims send Chand Mubarak or Ramzan Mubarak greetings to each other. Click Here For Sehri and Iftar Timings of Different Cities.
Under the Islamic lunar calendar, a new month begins upon the sighting of a crescent moon on the 29th day of the ongoing month. If the moon is not sighted, the month completes 30 days and a new month begins the next day. On May 5, which was 29th of Shaban, the moon wasn't spotted. Therefore, even if the moon is not sighted this evening in many parts of India, Ramzan will begin from May 7. Ramzan Mubarak 2019 Messages in Urdu: Shayari, WhatsApp Stickers, Ramadan Kareem GIF Images, SMS and Greetings to Send on This Festival.
Why dates are eaten during Ramzan:
Here, it may be noted that the moon was sighted in Kerala and neighbouring Karnataka districts of Udupi and Dakshina Kannada on May 5. Roza or fasting in Ramzan is intended to help teach Muslims self-discipline, self-restraint and generosity. During Ramadan, Muslims wake up early morning for the pre-dawn Sehri meal and skip food and water during the day before breaking fast in the evening after sunset. The evening meals are known as Iftar.