Universal Children's Day is an event which is celebrated across the world on November 20 every year. The objective of the observance of Universal Children's Day is to improve childcare, promote child welfare schemes, and see to it that children are subject to peace, love, equality and brotherhood. The Universal Children's Day was first observed in 1954, and since then the day is celebrated with much enthusiasm across age groups, especially for children.
To celebrate Universal Children's Day, a wide array of events, celebrations, functions are organised in schools, colleges, homes, and other institutes as well. People share their feelings through WhatsApp, Facebook, Instagram, Snapchat, among other platforms. Universal Children's Day 2019 Quotes & Wishes: Inspirational and Heartwarming Sayings That Will Help Your Child in Learning and Growth. 
People can send Happy Universal Children's Day 2019 wishes through WhatsApp messages, Facebook statuses, Instagram posts, Hike messages, Snapchat pictures to their loved ones. Recently, the popular chat messaging app WhatsApp launched a new feature, i.e. WhatsApp Stickers. It has been used these days extensively, and users can download stickers from the Android's Play store or click here to wish on this celebratory day.
Also, individuals can share 2019 Universal Children's Day greetings through text messages, picture messages, SMSes, GIF images, and videos too. It is nice to reconnect with the little ones on their special day, making them feel even more special with such little and cute gestures. Universal Children's Day 2019 Date: Know History, Significance and Celebration Associated With This Global Event. 
If you are looking for latest and popular Universal Children's Day wishes and greetings, then you need not worry, as we have your back covered. We at LatestLY bring you some of the top and best Universal Children's Day messages that you can send to your children, other kids, and peer members on this day.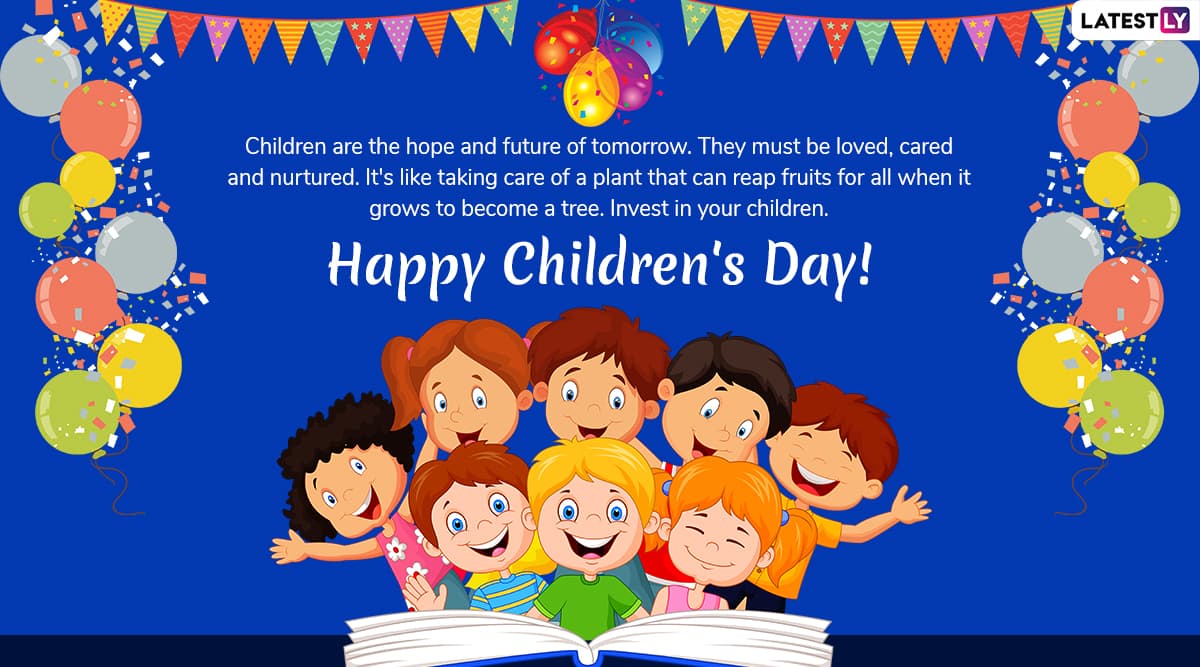 WhatsApp Message Reads: Children are the hope and future of tomorrow. They must be loved, cared and nurtured. It's like taking care of a plant that can reap fruits for all when it grows to become a tree. Invest in your children. Happy Children's Day.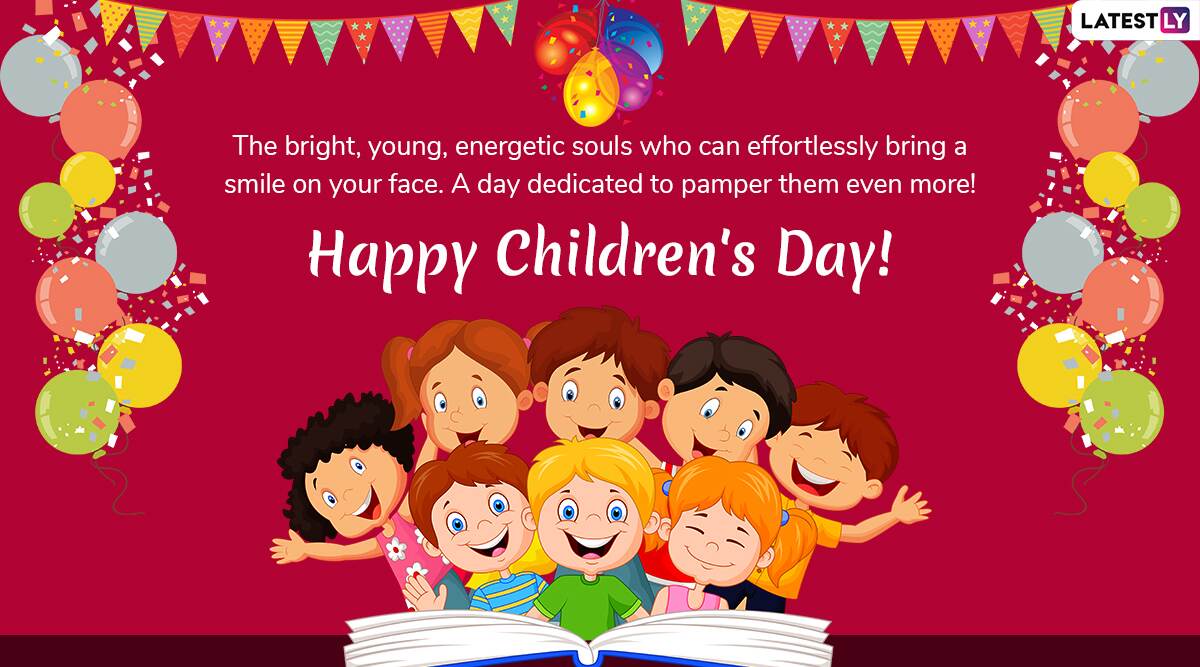 WhatsApp Message Reads: The bright, young, energetic souls who can effortlessly bring a smile on your face. A day dedicated to pamper them even more! Happy Children's Day.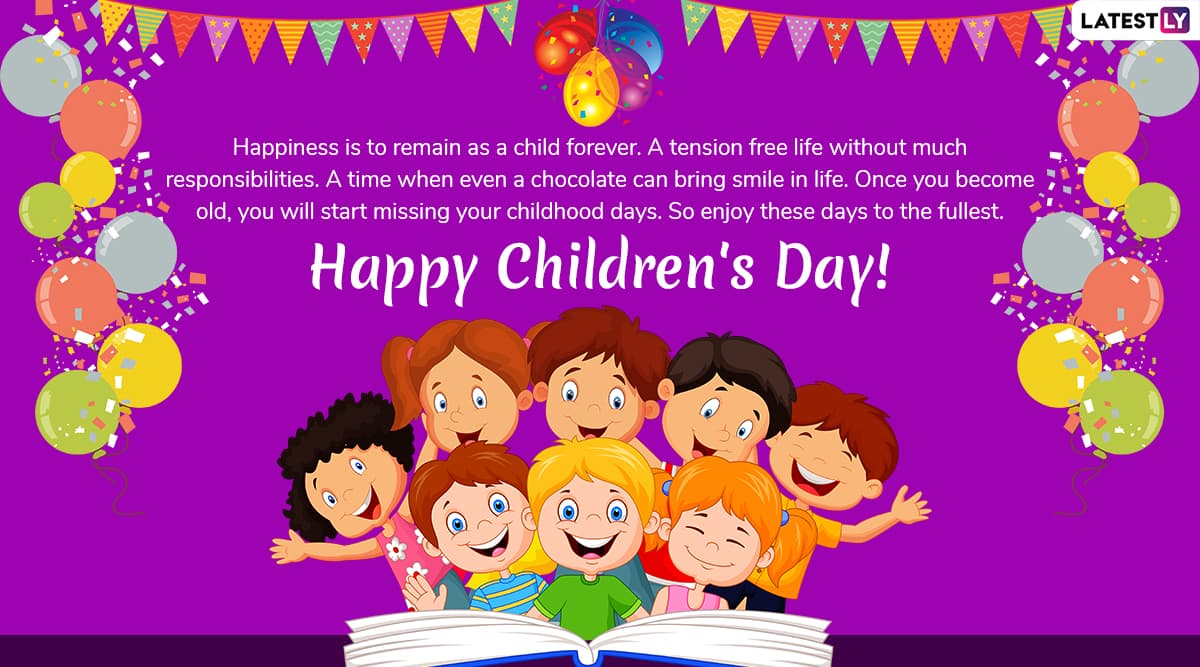 WhatsApp Message Reads: Happiness is to remain as a child forever. A tension free life without much responsibilities. A time when even a chocolate can bring smile in life. Once you become old, you will start missing your childhood days. So enjoy these days to the fullest. Happy Children's Day.
Universal Children's Day 2019 GIF Image:
Social media is all abuzz with hashtags like #WorldChildrensDay and #InternationalChildren's Day throughout the day. The celebrations of Universal Children's Day bring a lot of fun events, jovial times, and happy atmosphere to the fore.
Parents gift their children, kids exchange pleasantries, and there are a lot of extra co-curricular activities that take place on the day. As November 20 nears, we at LatestLY wish you and all the kids community a very 'Happy Universal Children's Day 2019!'