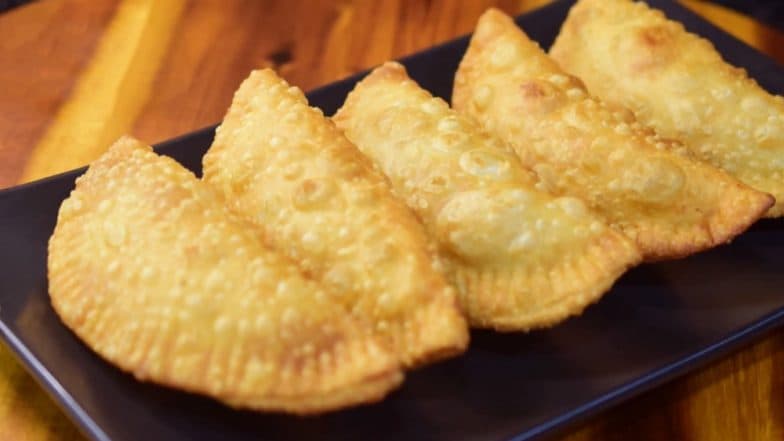 The festival of Ganeshotsav has come to an end. The ten-day celebration of the birth of Lord Ganesha moved too quickly for us to realise. We are on the tenth day of Ganeshotsav 2019, and the festival must have a sweet ending. Bid farewell to Bappa, preparing the traditional baked karanji. Along with modaks and laddoos, Ganpati Bappa also loves to relish in the delicious dish of Karanji, made out of wheat and semolina. For Ganeshotsav 2019 Day 10 bhog, we bring you the quick recipe to prepare this traditional sweet dish that you can enjoy at any hour during the festival. Ganpati Visarjan on Anant Chaturdashi 2019: Best Places in Mumbai to See Immersion of Lord Ganesh Idols and Be Part of Colourful Processions. 
The festival of Ganeshotsav is celebrated with much pomp and enthusiasm around the country, with some states and cities hosting big rallies to mark the auspicious occasion. For ten continuous day, devotees are captivated in Lord Ganesha's grace as his idols are installed at various temples, pandals and devotees' houses. Like all the other festivals, the celebration of Ganeshotsav can never be complete without some finger-licking dishes.
Much like Modaks, but in a different shape, Karanji is another favourite dessert among devotees that they love to indulge during the festival. It is prepared out of whole wheat and semolina dough parcels, stuffed with almonds, raisins and coconut. After baking, dip it into honey and serve to enjoy the crisp and sweetness of the traditional dish.
Watch Video:
It is the final day of Ganesh Festival 2019. Enjoy the tenth day of Ganeshotsav, indulging in this traditional delight. Devotees are gearing up to bid farewell to their favourite Hindu lord on the eleventh day of Anant Chaturdashi.